Categories >
Guides and Tips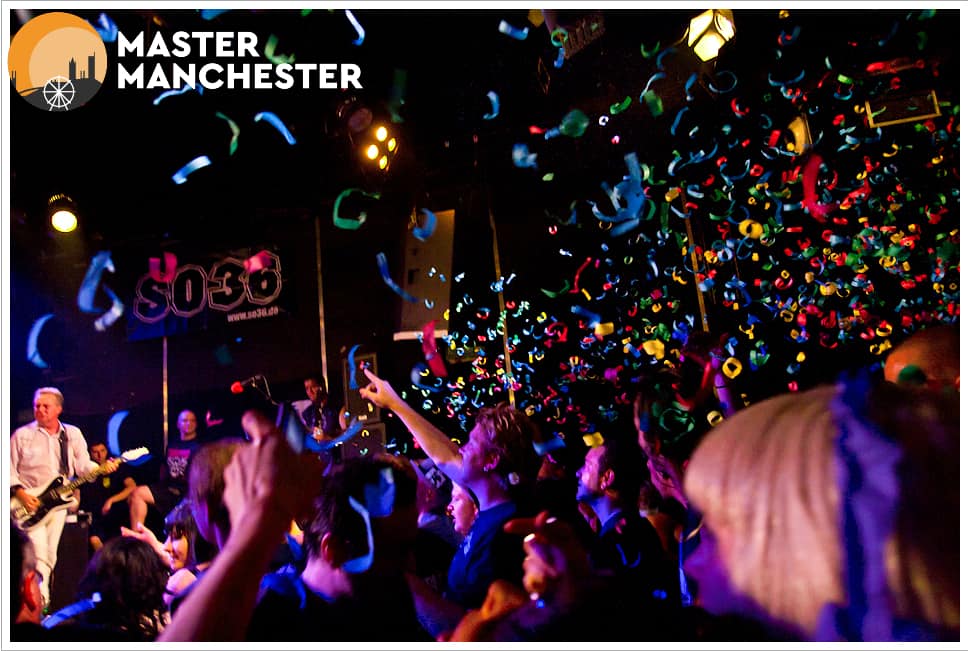 Top 18 Best Hen Party Ideas in Manchester 
They say if it's your last chance to be single before getting married, you might as well enjoy yourself with friends and family for a night to remember.
And this is exactly what hen parties are all about, and there are a few places in Manchester that you should ought to visit for said event! Check out below for the top places to be during the most enjoyable hen party Manchester can provide!
The Bread Shed 
Nestled in the bustling cityscape of Manchester, The Bread Shed offers a unique space that fuses the industrial charm of the city with a modern, dynamic vibe. Known for its live music, comedy shows, and club nights, it's a venue that's as diverse as it is engaging.
The space is creatively segmented into various zones, each with a distinct character, allowing for a versatile experience that caters to different moods and preferences.
Moreover, the live music scene at The Bread Shed is vibrant and varied, featuring both local talents and renowned artists (artists Manchester).
With state-of-the-art acoustics and lighting, the experience is immersive and electric. Whether it's an intimate acoustic set or a full-blown rock concert, the venue's dedication to quality ensures that every performance is memorable.
Pro tip: For hen parties, The Bread Shed offers tailored packages that can include private areas, dedicated servers, customised menus, and exclusive performances.
The Crystal Maze LIVE Experience
Challenge, laughter, and teamwork are at the heart of the Crystal Maze LIVE Experience. Situated in the iconic Old Granada Studios, this interactive experience invites hen parties to test their wit and agility as they navigate through a series of thrilling games.
Inspired by the classic TV show, guests can work together to conquer the Maze's four zones, collecting crystals along the way. Providing an extraordinary blend of nostalgia, competition, and fun, this destination offers a truly unique way to celebrate a hen party in Manchester.
After conquering the Maze, guests can retire to a private area where they can reminisce about their victories and celebrate with refreshments.
The Crystal Maze LIVE Experience's attention to detail ensures that your hen party will be a triumph of fun, challenge, and shared memories, all set within an iconic piece of British television history.
Pro tip: Packages can be customised to include photo souvenirs, certificates, and catering. 
Cloud 23 at The Hilton
Cloud 23 offers a luxurious escape high above the city. Located on the 23rd floor of The Hilton, this stylish bar offers breathtaking panoramic views of Manchester's skyline.
With its chic ambiance, signature cocktails (best cocktail bars Manchester), and sumptuous afternoon teas, Cloud 23 has become a sought-after venue for upscale hen parties.
Private hire options and expert event planners ensure a seamless celebration, making this the perfect choice for those seeking elegance and exclusivity.
The champagne and cocktail masterclasses are particularly popular for hen parties, guided by expert mixologists. The breathtaking views, elegant ambiance, and tailor-made experiences at Cloud 23 come together to create a lavish celebration that embodies sophistication.
Pro tip: The Hilton's staff at Cloud 23 pride themselves on going above and beyond, offering personalised menus, decorations, and even private access to sections of the venue. 
Menagerie Restaurant & Bar
A fusion of fine dining and theatrical entertainment awaits you at Menagerie Restaurant & Bar. This stunning venue combines a gourmet menu with jaw-dropping performances, creating a multisensory experience that captivates all who enter.
From aerial artists to fire-breathing acts, the spectacle at Menagerie is perfectly complemented by exquisite cuisine. With a range of bespoke hen party packages, this restaurant ensures a celebration filled with glamour, excitement, and unforgettable moments.
Menagerie's private dining options give you the chance to personalise your evening, right down to themed décor and signature dishes.
Offering a blend of luxury, performance, and taste, Menagerie Restaurant & Bar creates a hen party filled with sensory delights that resonate with joy and opulence.
Pro tip: The performers can also coordinate with your chosen theme, ensuring an integrated and immersive dining experience. 
Breakout Manchester
If a sense of adventure and puzzle-solving excites your party, Breakout Manchester is the destination for you. Offering immersive escape room experiences, Breakout challenges your hen party to work as a team, decipher clues, and crack codes to escape within a set time.
With various themed rooms catering to different difficulty levels, there is a challenge for everyone. A visit to Breakout offers a thrilling and novel way to bond with your friends, ensuring memories that will last a lifetime.
Breakout Manchester is a premier escape room experience located in the heart of the city— and it's accessible to anyone who visits or lives in the city.
As part of a chain that boasts branches in locations like Liverpool, Chester, and Cardiff, the Manchester branch stands out with rooms that uniquely resonate with the city's rich history and vibrant cultural scene.
Each challenge offers not only a puzzle but a journey through Manchester's essence, making it a favourite among escape room enthusiasts.
Post-escape celebration packages are available, allowing your party to revel in the triumph of the escape with a selection of beverages and snacks.
With a range of scenarios and challenges, Breakout Manchester offers a unique and thrilling twist to traditional hen party festivities.
Pro tip: Breakout also offers unique team-building exercises tailored for hen parties, aimed at enhancing camaraderie and connection within the group. 
Junkyard Golf Club
The Junkyard Golf Club provides a funky twist on the traditional game. With uniquely designed courses, filled with outrageous obstacles and quirky décor, it's the perfect place for a lighthearted hen party.
Whether you're golf enthusiasts or just looking for a laugh, the vibrant atmosphere and inventive holes guarantee a good time. Pair your game with scrumptious snacks and inventive cocktails, and you have an energetic and entertaining hen party option.
Junkyard Golf Club can also arrange for special cocktails and customised party décor to align with the theme of the hen party. With its mix of creativity, competition, and downright silliness, it's a destination that guarantees laughter and enjoyment in spades.
Pro tip: Their themed courses offer something for everyone, from the absurdly hilarious to the mildly challenging, ensuring no two visits are the same. Make sure to try them out, and yes, there is a 'bride-to-be' themed course if you do choose to have it for your hen party! 
Manchester Craft and Design Centre
For the creatively inclined, Manchester Craft and Design Centre offers an inspiring setting for a unique hen party. Engage in various craft workshops led by professional artists, from pottery to jewellery making.
These hands-on experiences provide a chance to create personalised keepsakes and memories with friends.
Situated in the lively Northern Quarter, this venue also allows you to explore local galleries, cafes, and boutiques, making it a delightful and cultured hen party choice.
Beyond crafting, the centre offers guided tours of the resident artist studios, giving insight into the creative process.
The Manchester Craft and Design Centre's distinctive blend of creativity, culture, and community makes it a beautiful location to celebrate and foster friendships.
Pro tip: You can also customise your hen party with special workshops, themed around the bride-to-be's favourite crafts or hobbies.
Salsa En Manchester
Dance the night away with a vibrant salsa experience at Salsa En Manchester. Known for its lively atmosphere and expert instructors, this destination offers tailored dance packages for hen parties.
Whether you're seasoned dancers or just looking to try something new, Salsa En Manchester ensures an evening full of rhythm, fun, and Latin flair. Pair your dance lessons with traditional tapas and cocktails, and you've got a hen party that pulses with energy and joy.
Beyond dancing, Salsa En Manchester provides authentic Latin American cuisine, allowing you to dine in a vibrant atmosphere that echoes the warmth of the dance floor.
You can customise your night with specific dance styles, live music, and personalised decorations. The rhythm, flavours, and passionate energy of Salsa En Manchester bring a taste of Latin culture to your hen party, creating an unforgettable night of dance and celebration.
Pro tip: Practise your dancing, because you're in for a treat if you can show your moves on the dance floor! Don't forget to shake it with your girlfriends too as this enhances the experience altogether. 
The Comedy Store
Laughter is the essence of any great party, and The Comedy Store in Manchester delivers it in abundance. Renowned for showcasing top comedic talents, this venue offers a side-splitting night of entertainment.
Special hen party packages can include a sumptuous meal, drinks, and priority seating, ensuring that your night is filled with giggles and good times. With a lineup of the funniest comedians, The Comedy Store guarantees a memorable evening of hilarity and cheer.
Tailored packages can include themed décor, personalised menus, and even guest appearances by famous comedians. Combining world-class comedy with personal touches, The Comedy Store crafts a hen party filled with laughter, intimacy, and memories that last a lifetime.
Pro tip: For those who wish to continue the laughter, The Comedy Store offers after-show party options where you can mix with the comedians and enjoy exclusive access to the bar. 
Lock 91
Nestled along the picturesque Deansgate Locks, Lock 91 is a charming bar with a distinct vintage appeal. With multiple rooms, each exuding its own unique character, it's a versatile venue for a bespoke hen party.
Whether it's cocktails in the Victorian-inspired Lounge or dancing in the Club Room, Lock 91 offers a warm and welcoming environment for celebration. With expert event staff on hand, they can tailor your evening to be as vibrant or as relaxed as you wish.
Their garden terrace, with its scenic views of the canal, is an idyllic spot for summer celebrations. With an ambiance that marries the old with the new, Lock 91 stands as a versatile and inviting space where friendships are celebrated and memories are made.
Pro tip: With its vintage charm and modern amenities, Lock 91 can also arrange themed nights, live music, and custom cocktails. 
The Trafford Centre's SEA LIFE Aquarium
For an underwater adventure, the SEA LIFE Aquarium at The Trafford Centre offers a truly unique hen party experience. Immerse yourselves in the world of exotic marine life as you explore the stunning displays.
VIP tours and private dining experiences can be arranged, allowing your group to dine amongst the mesmerising aquatic scenery. Combining education, exploration, and elegance, this place provides a sophisticated and extraordinary venue for your hen party celebration.
With options to host an elegant dinner beside the Ocean Tank or a cocktail party surrounded by jellyfish, the SEA LIFE Aquarium brings a touch of magic and grandeur to any hen party, leaving guests enchanted by the beauty of the underwater world.
Pro tip: For those who wish to delve deeper, the aquarium offers behind-the-scenes tours, providing fascinating insights into marine conservation and care. 
Twenty Twenty Two
Twenty Twenty Two is a dynamic and modern bar with a twist. This venue boasts a full-size Ping Pong room that adds an element of playful competition to your hen party.
Situated in the Northern Quarter, it's a vibrant and versatile space, known for its trendy design, eclectic music, and inventive cocktails. Whether you're challenging your friends to a game or dancing the night away, Twenty Twenty Two promises a fun and lively atmosphere.
Additionally, their resident DJs can customise playlists to suit the mood of your celebration. Twenty Twenty Twos' blend of sports, music, and ambiance forms a versatile space where the party can be as laid-back or lively as you desire.
Pro tip: The venue's flexibility allows for tailored events, from Ping Pong tournaments to themed parties, all complemented by a vast selection of food and drinks.
Chill Factore
Embrace your adventurous side with a visit to Chill Factore, the UK's longest indoor ski slope. Offering skiing, snowboarding, and even snow play activities, it's a winter wonderland year-round.
Tailored hen party packages provide lessons and fun sessions to suit all abilities, making it an exhilarating and unique way to celebrate.
Complement the icy excitement with delicious food and drinks at the on-site restaurants and bars, creating a hen party that's both thrilling and indulgent.
Chill Factore also houses Alpine-themed bars and restaurants where guests can warm up and enjoy après-ski style celebrations.
With its cool environment and exhilarating activities, Chill Factore offers a snowy escape that brings excitement and novelty to your hen party.
Pro tip: Exclusive packages can include personalised lessons, equipment rental, and themed catering. 
The Liars Club
Immerse yourselves in tropical paradise at The Liars Club, Manchester's renowned Tiki bar. With exotic décor, flaming cocktails, and a Polynesian-inspired menu, it's a vibrant destination for a tropical-themed hen party.
Live DJs, private booths, and professional mixologists add to the fun, ensuring a lively and unforgettable evening. For those dreaming of a beach escape without leaving the city, The Liars Club offers a slice of paradise in the heart of Manchester.
Private hire options, customised menus, and tropical décor provide a tailored experience that captures the essence of island life. At The Liars Club, every element is designed to transport your party to a tropical haven where fun and festivity reign supreme.
Pro tip: Their masterclasses in cocktail making are a popular choice for hen parties, guided by expert bartenders who add a flair of theatrics to the mix. 
Manchester Gin Experience
Experience the art of gin-making at Manchester Gin's own distillery. This hands-on experience offers a fascinating insight into the world of gin, guided by expert distillers.
Customise your own bottle, sample various blends, and enjoy a gourmet meal as part of their tailored hen party packages. Combining education, creativity, and indulgence, the Manchester Gin Experience is a refined and engaging option for gin enthusiasts.
Complement the day with a bespoke cocktail menu, designed around the bride-to-be's favourite flavours. The Manchester Gin Experience is not just a tasting session but a journey into the art of gin, culminating in a customised bottle that serves as a keepsake of the special day.
Pro tip: In addition to distilling your gin, the experience can include a tour of the facility, giving insight into the history and intricacies of gin production. 
Inflata Nation
Bounce into the world of inflatable fun at Inflata Nation, the ultimate inflatable theme park. Offering everything from giant slides to obstacle courses, it's a playground for adults and a delightful twist on the traditional hen party.
Whether you're racing your friends or exploring the various inflatable zones, it's an exhilarating experience that promises laughter and joy. With dedicated party rooms and catering options, Inflata Nation ensures a hen party that's fun-filled and out of the ordinary.
Inflata Nation's team ensures that the entire experience is seamless and joyful, coordinating activities, photos, and special surprises for the bride-to-be. By adding a touch of childhood joy to your celebration, Inflata Nation crafts a hen party that's youthful, energetic, and full of laughter.
Pro tip: They also offer specific hen party packages that include access to all zones, dedicated party hosts, and catering options that range from healthy snacks to indulgent treats. 
The Fitzgerald Speakeasy
Step back in time to the roaring '20s at The Fitzgerald, Manchester's premier speakeasy-style bar. With vintage décor, live jazz music, and craft cocktails, this hidden gem oozes elegance and nostalgia.
Tailored hen party packages provide exclusive use of the venue, themed entertainment, and sumptuous catering, ensuring a night of sophistication and style. For a hen party that's both classy and mysterious, The Fitzgerald offers a unique and timeless charm.
Their menu, inspired by the era, includes classic cocktails and gourmet dishes that transport your taste buds back in time.
Fitzgerald's dedication to authenticity, class, and entertainment crafts an elegant evening that captivates the senses and provides a glamorous backdrop to a remarkable hen party.
Pro tip: Exclusive access, private performances, and curated playlists can be arranged to give your party the perfect Roaring Twenties vibe. 
UKPaintball Manchester — Bolton
For an adrenaline-packed hen party, UKPaintball Manchester offers a thrilling day of adventure. With a variety of themed game zones, state-of-the-art equipment, and professional staff, it's a chance to indulge in friendly competition and team bonding.
Customizable packages cater to different group sizes and preferences, ensuring an exciting and personalised experience. Whether you're paintball veterans or newbies, UKPaintball Manchester provides an exhilarating and unforgettable way to celebrate.
With options for themed game zones, personalised challenges, and catering, The Paintball Centre caters to every detail, ensuring an action-packed day that's full of excitement.
Whether it's a close-knit group or a large party, UKPaintball Manchester tailored approach creates a hen party that's filled with camaraderie, excitement, and shared triumphs.
Pro tip: Beyond paintball, they offer other activities like laser tag and bubble soccer, allowing your party to choose the level of competition and excitement that suits them best.