Categories >
Guides and Tips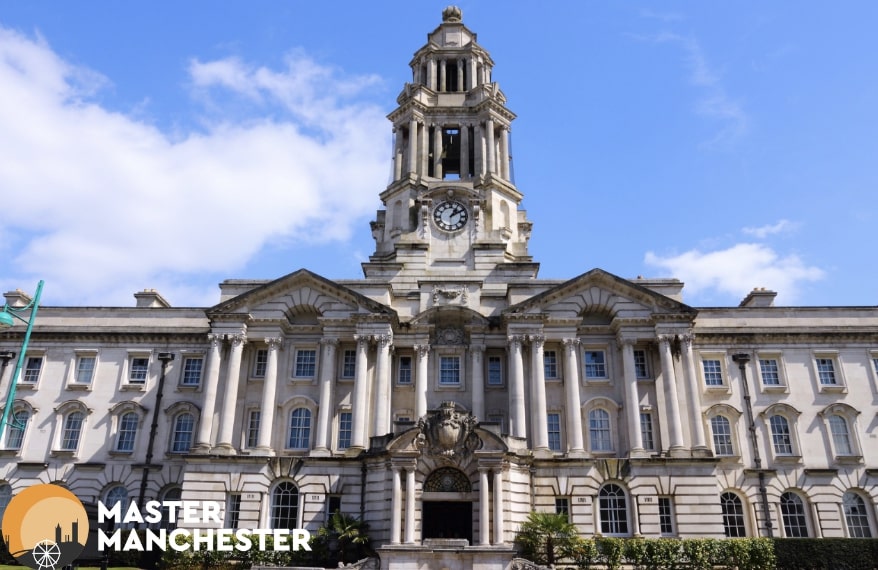 Visit and Discover Stockport in Manchester
Stockport—a town teeming with surprises. Nestled in the Greater Manchester region, this once industrial hub is now bustling with unique shopping experiences, historical intrigue, and an ever-evolving food and drink scene.
Surrounded by rolling countryside and peppered with half-timbered houses, it's a stark yet pleasant contrast to the big city life of Manchester.
A trip to Stockport offers a plethora of memorable experiences, and we've curated the best of them here in this guide. From local gems to unmissable activities, there's something for everyone—read on!
Time Zone
Greenwich Mean Time (GMT+1)
Best Time to Go
The most appealing time to visit Stockport is during the late spring and summer when the weather is mild, the flowers are in bloom, and outdoor activities are plentiful.
For fewer crowds, consider a visit in September. The weather is still favourable, but the summer rush has calmed down.
Things to Know
Currency: Pound Sterling (£)
(Check the current exchange rate)
Language: English
Calling Code: +44
How to Get Around
Trains: The Stockport railway station provides excellent connections to Manchester and other cities.Buses: Stockport's bus network is extensive and well-serviced, with most attractions within the town easily accessible.
Taxis: Local taxi firms such as Metro Taxis and Lynx Taxis offer reliable service, and Uber also operates in the area.
Car service: If you prefer to arrange your airport pick-up in advance, consider companies like Stockport Executive Travel or Pegasus Executive.
Where to Stay in Stockport
The Midland
Address: 16 Peter St, Manchester M60 2DS, UK
Phone: +44 161 236 3333
Pricing: £££
The Midland, right in Manchester's vibrant centre, is only a quick train journey from Stockport. It's not your typical hotel—it's a piece of history, wrapped in an eye-catching Edwardian façade.
Within these hallowed halls, world-shaping deals were struck—did you know the Rolls-Royce brand was born here, sealed with a simple handshake? Over the years, its plush rooms and attentive service have drawn countless celebrities.
After a day in Stockport, why not unwind at the Midland's award-winning spa? Now, that's some serious pampering!
Oddfellows on the Park
Address: Bruntwood Park, Cheadle SK8 1HX, UK
Phone: +44 161 697 3066
Pricing: ££
Oddfellows on the Park is a breath of fresh air. It's not every day you get to stay in a refurbished Victorian mansion! This boutique gem effortlessly merges history with contemporary chic.
Each room is unique, boasting charmingly quirky decor that's a step away from your run-of-the-mill hotel design. And here's a little insider tip: their in-house restaurant serves some of the most tantalising dishes around. Dining with a view of the park, anyone?
Premier Inn Stockport Central
Address: Churchgate, Stockport SK1 1YG, UK
Phone: +44 333 321 1366
Pricing: £
Looking for something budget-friendly but don't want to compromise on comfort or location? Premier Inn Stockport Central is your answer. It's smack dab in the middle of the town, which means you're just a hop, skip, and jump away from the best of Stockport.
Despite the modest price, there's nothing 'budget' about the rooms—they're well-appointed, comfortable, and perfect to crash in after a day of exploring. Plus, the Premier Inn breakfast is the stuff of legends—a great way to kick start your day!
Hotel Gotham
Address: 100 King St, Manchester M2 4WU, UK
Phone: +44 161 413 0000
Pricing: £££
A 25-minute train journey brings you to Manchester's Hotel Gotham. It's a hot pick for enthusiasts of Art Deco design. Set in a former bank, the hotel retains many original features from the building's glory days.
A notable highlight is the rooftop Club Brass bar—sip on a cocktail while taking in the skyline views!
Mottram Hall
Address: Wilmslow Rd, Mottram St Andrew, Macclesfield SK10 4QT, UK
Phone: +44 1625 828135
Pricing: £££
Mottram Hall, in the neighbouring town of Macclesfield, is worth the detour. A Georgian country house set on 270 acres, it houses a top-tier golf course, a state-of-the-art spa, and a two-AA-Rosette-awarded restaurant.
After a satisfying meal, enjoy a leisurely walk as a romantic date through the sculpted parklands with your special someone!
Malmaison Manchester
Address: 1-3 Piccadilly, Manchester M1 1LZ, UK
Phone: +44 161 641 1883
Pricing: ££
Malmaison Manchester combines stylish, modern rooms with a superbly convenient location. Their Brasserie restaurant is a standout, offering a 'Prix Fixe' menu that's a celebration of locally sourced ingredients.
The bar, featuring 'Mixology', is for sure a haven for cocktail enthusiasts!
Bredbury Hall Hotel
Address: Osborne St, Bredbury, Stockport SK6 2DH, UK
Phone: +44 161 430 7421
Pricing: ££
Overlooking the Goyt Valley, Bredbury Hall Hotel offers 16th-century charm with modern comforts. Their Marco Pierre White Steakhouse serves classic British dishes with a twist, and the on-site club draws a vibrant weekend crowd.
Also, explore the seven acres of landscaped gardens surrounding the property!
Where to Eat in Stockport
Where The Light Gets In
Address: 7 Rostron Brow, Stockport SK1 1JY, UK
Phone: +44 161 477 5744
Pricing: £££
Where The Light Gets In is more than just a restaurant; it's a culinary experience. They've thrown out the traditional menu in favour of seasonal, local produce. You never know what you're going to get—surprise is part of the charm.
You might be sampling wild mushrooms picked earlier that day, or tasting an innovative twist on a Lancashire hotpot. It's not just the food, but the whole dining experience. The atmosphere is warm, friendly, and utterly unpretentious.
The Allotment
Address: 18/22 Lloyd St, Manchester M2 5WA, UK
Phone: +44 161 478 1331
Pricing: £££
The Allotment, an acclaimed vegan restaurant, swapped its Stockport location for Manchester's bustling city centre. Regardless, it's worth the quick train journey. This place takes vegan cuisine to the next level.
Each dish—whether it's beetroot and red onion tart, or roast cauliflower with pine nut puree—is a work of art. And the tasting menus are something special, offering you a unique tour of plant-based flavours.
A tipple from their organic, biodynamic wine selection completes the culinary experience.
The Plaza Café
Address: Mersey Square, Stockport SK1 1SP, UK
Phone: +44 161 480 3818
Pricing: £
The Plaza Café, situated inside Stockport's iconic Plaza Theatre, is a trip back in time. Enjoy a sandwich or a savoury pastry surrounded by authentic 1930s decor. I'd suggest trying their luxurious afternoon tea, served with a side of nostalgia.
For a truly immersive experience, you could catch a classic movie or a show at the theatre post-lunch.
Bakers Vaults
Address: Market Pl, Stockport SK1 1ES, UK
Phone: +44 161 429 0624
Pricing: £
Looking for pub grub done right? Bakers Vaults delivers. This Stockport institution sits in the shadow of St Mary's Church, on the edge of the historic Market Place. It's a cosy pub with an extensive selection of real ales, artisan gins, and comfort food.
Their homemade pies are hearty, perfect to warm up a chilly day. They also host regular live music nights—a chance to soak up some local talent while you tuck into your meal!
Rhode Island Coffee
Address: 12-14 Bridge St, Stockport SK1 1XR, UK
Phone: +44 161 480 8652
Pricing: £
In the heart of Stockport, you'll find Rhode Island Coffee, a local favourite for caffeine fixes and light bites. It's not only the variety of coffee—everything from single-origin brews to flavoured lattes!
Their all-day breakfast menu is a winner. Be it a simple buttery croissant or a robust full English breakfast, you're set for a hearty start to your day.
It's the sort of place that you'll find yourself visiting not just for the coffee but also for the atmosphere; a relaxed, laid-back spot perfect for people-watching!
Project 53
Address: 22 Market Pl, Stockport SK1 1EU, UK
Phone: +44 161 429 8269
Pricing: ££
Project 53 isn't your usual pizza joint. This trendy spot in Market Place is part of the Mobberley Brewhouse family. Besides serving up some of the best pizzas in town, they have an impressive list of locally brewed craft beers.
Try the 'Nduja pizza if you're a fan of spicy food. The smoky, spicy sausage pairs perfectly with the melted mozzarella. If you're feeling adventurous, you can't go wrong with the rotating special.
And the beer? Let's just say, if you're a craft beer aficionado, you'll be spoilt for choice.
The Fisherman's Table
Address: 103-105 Shaw Rd, Stockport SK4 4AR, UK
Phone: +44 161 432 5564
Pricing: £££
If seafood is your thing, don't miss The Fisherman's Table. A fine dining destination, it boasts the freshest catches right from the shores of Britain. The menu changes often, depending on the daily haul.
Delicacies range from pan-seared scallops to grilled whole Dover sole. The wine list is carefully curated to compliment the marine flavours. And the dessert menu is equally impressive; do leave room for a sweet finish.
For a memorable meal, book a Chef's Table experience to watch the kitchen magic up-close.
What to Do in Stockport
Visit Stockport Air Raid Shelters
Address: 61 Chestergate, Stockport SK1 1NE, UK
Phone: +44 161 474 1940
Delve into Stockport's World War II history by touring the Stockport Air Raid Shelters. This network of underground tunnels was originally built to protect Stockport residents during the air raids.
The damp smell and the dim lighting transport you back to the 1940s when around 6,500 people used the shelters. Along the tour, you'll learn fascinating stories of the war's everyday heroes.
If you're a history buff or simply appreciate a good story, it's a worthy stop. Don't forget to pick up a memento at the gift shop after your tour.
Stroll through Etherow Country Park
Address: George St, Compstall, Stockport SK6 5JD, UK
Phone: +44 161 427 6937
Nature lovers, make a beeline for Etherow Country Park, one of the first country parks in England. This green oasis offers endless trails for hiking, wildlife spotting and birdwatching, with over 200 species recorded!
While the tranquil Goyt River is a soothing sight, it's the Etherow Lake that takes the crown. Whether you're in the mood for a picnic by the lake or fancy sailing model boats, it's a great day out.
Remember to pack your binoculars—you wouldn't want to miss a glimpse of the park's avian residents.
Immerse in art at Stockport War Memorial Art Gallery
Address: Wellington Rd S, Stockport SK3 8AB, UK
Phone: +44 161 474 4453
Culture vultures will be pleased with a visit to Stockport War Memorial Art Gallery. Originally built as a memorial to the Stockport soldiers who gave their lives during WWI, it's now home to an impressive collection of artwork.
You can feast your eyes on stunning local and national pieces—contemporary, fine art, and sculpture. The gallery frequently holds exhibitions, art events, and even workshops for those looking to tap into their artistic side.
Even if you're not an art connoisseur, the gallery's regal architecture alone is worth a gander!
Explore Hat Works Museum
Address: Wellington Mill, Wellington Rd S, Stockport SK3 0EU, UK
Phone: +44 161 474 2399
Fun fact: Did you know Stockport was once the world's leading hat-producing town? The Hat Works Museum, set in a beautifully restored 19th-century mill, pays homage to this hat-making heritage.
You'll discover a trove of over 400 hats from around the globe and get a peek into the world of millinery. The interactive exhibits and live demonstrations make this museum a hit among kids and adults alike.
As the UK's only museum dedicated to the hatting industry, it's a one-of-a-kind experience you wouldn't want to miss.
Play at Reddish Vale Farm
Address: Reddish Vale Rd, Stockport SK5 7HE, UK
Phone: +44 161 480 1645
Reddish Vale Farm isn't just a delight for animal lovers—it's a fun-packed day for everyone. You can get up close with traditional farm animals and some more exotic ones like reptiles and alpacas.
It doesn't stop there—take a tractor ride, play mini-golf, or learn horse riding. They host seasonal events, too, like the popular Pumpkin Picking during Halloween. It's a brilliant place to let your little ones enjoy the great outdoors.
But trust me, you don't have to be a kid to enjoy the pure joy of feeding lambs or hugging an alpaca!
Get Thrilled at Stockport's Trampoline Park
Address: Unit 1a, Bankfield Industrial Estate, Coronation St, Stockport SK5 7SE, UK
Phone: +44 161 850 1401
Ready to unleash your inner child? Head to Stockport's Trampoline Park! This action-packed venue is full of trampolines, foam pits, and obstacles that'll have you bouncing with joy.
Whether you want to perfect your flips, compete in a dodgeball game, or simply jump around, the fun never ends here. It's not just for the young ones; adults can have a blast too.
The park also offers fitness classes with a twist, think aerobics on a trampoline. When was the last time you broke a sweat while having this much fun?
Wander in Stockport's historic Market Place
Address: Market Pl, Stockport SK1 1EU, UK
If you're up for a bit of history, retail therapy, and delicious food all at once, you've got to visit Stockport's Historic Market Place. This vibrant spot has been the town's commercial hub since mediaeval times.
Every Tuesday, Friday, and Saturday, the place comes alive with stalls selling fresh produce, unique crafts, antiques, and quirky finds. For a tasty break, tuck into yummy street food or unwind at a quaint café.
Also, don't miss the 'Foodie Friday' event held on the last Friday of the month—a gastronomic fiesta with live music.
Where to Shop in Stockport
Merseyway Shopping Centre
Address: Merseyway, Stockport SK1 1PD, UK
Phone: +44 161 477 1155
Right in the heart of Stockport, Merseyway Shopping Centre is a thriving hub that stretches over half a mile long. It's not just about the big-name brands like New Look, H&M, and River Island here—local independent shops provide a delightful variety.
When you need a shopping break, enjoy a coffee and people-watch at one of the various cafes in the area. The best part? The entire shopping centre is pedestrianised, making it a breeze to stroll from shop to shop.
Rare Mags
Please embed: https://www.instagram.com/p/Ct6qpsgMZXc/
Address: 289 Heaton Moor Rd, Heaton Chapel, Stockport SK4 4BU, UK
Phone: +44 161 442 7537
A bibliophile's dream, Rare Mags is a true gem of Stockport. It's a haven for magazine enthusiasts, boasting a diverse range of independent, foreign, and limited-run publications you won't find in your regular bookstore.
They also stock a range of carefully curated books, prints, and stationery. Remember that little thrill you used to get when opening a freshly printed magazine? You'll get that here.
Better yet, their friendly staff know their stuff, and are more than willing to chat about their latest finds!
The Warren
Address: 6 The Warren, Bramhall, Stockport SK7 3AW, UK
Phone: +44 161 439 1050
The Warren isn't your average shopping destination—it's an enchanting lifestyle store in the heart of Bramhall. Inside, you'll find a wonderfully eclectic mix of stylish homeware, artisanal gifts, and unique furniture, all hand-picked by the owners for their quality and originality.
From ornate mirrors to scented candles, there's always something that will catch your eye. Shopping at The Warren feels more like a treasure hunt, and that's all part of its charm.
Stockport Market
Address: Market Pl, Stockport SK1 1ES, UK
Phone: +44 161 474 4453
Agapanthus Interiors
Address: 77 Wellington St S, Stockport SK1 3RU, UK
Phone: +44 161 429 9710
Agapanthus Interiors is a treasure trove for those with a taste for the vintage and unique. Specialising in antique and salvaged furniture, decorative items, and an impressive collection of vintage chandeliers and lighting.
Each piece is lovingly restored and can add a unique twist to any interior design. Don't miss their range of hand-painted furniture; you might just find that unique piece you've been searching for.
Robinsons Brewery Visitors Centre
Address: Lower Hillgate, Stockport SK1 1JJ, UK
Phone: +44 161 612 4100
Robinsons Brewery Visitors Centre isn't just for beer lovers, though they won't be disappointed. Alongside the guided tours and beer tastings, you'll find a fantastic shop selling their own ales and branded merchandise.
It's the ideal spot for picking up some unique souvenirs and gifts. Even if you're not big on beer, it's worth a visit just for the experience – and who knows, you might just develop a taste for craft ales!
Pear Mill Vintage Emporium
Address: Stockport Rd W, Bredbury, Stockport SK6 2BP, UK
Phone: +44 161 427 6984
For the lovers of all things vintage, Pear Mill Vintage Emporium is a must-visit. Housed in a historic Edwardian cotton mill, this vast emporium is a paradise for antique seekers, brimming with retro furniture, clothing, jewellery, books, and so much more.
With over 70 dealers, there's always a fantastic array of items to browse. There's even a quaint cafe for when you need to refuel after exploring all the nostalgia-laden aisles. Just try to leave empty-handed, I dare you!
Which Neighbourhoods to Visit in Stockport
Stockport Old Town
Ever fancied stepping into a time machine? Strolling through Stockport Old Town might be the next best thing.
This historic heart of Stockport, clustered around the Marketplace and Underbanks, is a delightful tangle of cobblestone streets, red-brick townhouses, and centuries-old buildings.
Its vintage charm is complemented by a lively array of independent shops, cafes, and the popular Stockport Market. A visit to the town's old hat factory at Hat Works Museum is a must; you'll tip your hat to Stockport's rich heritage.
Edgeley
Edgeley, known for the iconic Edgeley Park, home to Stockport County FC, is more than just a football fan's paradise. This lively neighbourhood is a blend of traditional charm and urban convenience.
Edgeley Park is one of the oldest football grounds in the world, making it a pilgrimage site for sports history buffs. Afterwards, why not take a leisurely stroll at Alexandra Park with its beautiful Victorian Clock Tower?
If you're feeling peckish, Edgeley Road is lined with a variety of restaurants, pubs, and shops.
Davenport
Ah, Davenport. This lovely residential neighbourhood gives off a delightful village vibe, despite its proximity to Stockport city centre.
Davenport is characterised by its leafy streets lined with charming Edwardian homes, small local businesses, and community-focused amenities.
Not to be missed is the beautifully maintained Cale Green Park, offering play areas, sports facilities, and picturesque walking routes. Don't forget to stop by Davenport's small cluster of shops – there's always something interesting to find.
Heaton Moor
Think of Heaton Moor as Stockport's stylish cousin. Known for its affluent suburban feel, this area is packed with trendy boutiques, independent eateries, and gourmet food shops.
The neighbourhood's star attraction is the beautifully restored Savoy Cinema, offering a mix of mainstream, independent, and foreign films in a classy art-deco setting. If you're a foodie, Heaton Moor is a delight.
From artisan bakeries to upmarket gastropubs, this neighbourhood knows how to cater to discerning palates. Make sure you swing by Shaw Road; it's the gastronomic heart of the area.
Cheadle Hulme
A visit to Cheadle Hulme offers a taste of the good life. This affluent neighbourhood is known for its quality schools, excellent amenities, and easy access to the countryside, making it a popular spot among locals.
Wander around the pleasant suburban streets, and you'll find a mix of shops, restaurants, and traditional pubs to explore. If you're into golf, you're in luck. The neighbourhood boasts some of the area's best golf courses.
But if swinging clubs isn't your thing, there are plenty of scenic walking routes to enjoy too!
Romiley
Romiley, nestled in the breath-taking Goyt Valley, offers a village feel with city connections. The area's charm comes from its semi-rural character, offering the perfect balance between countryside tranquillity and urban convenience.
Here, you'll find a thriving local community with a friendly atmosphere. Romiley Park, with its playgrounds and community gardens, is a lovely spot for a family day out.
Don't miss out on the thriving Romiley Market, where local traders sell everything from organic produce to handmade crafts. In the mood for a pint? The local pubs are warm and welcoming.
Marple
The neighbourhood of Marple is a treasure trove of natural beauty and rich history. This former mill town has transformed into a vibrant community filled with independent shops, delightful eateries, and plenty of green spaces.
The Marple Locks, a set of 16 canal locks, are a unique attraction, offering picturesque waterside walks. The area also boasts an impressive selection of parks, including Brabyns Park and Memorial Park.
Movie buffs will appreciate Marple's Regent Cinema, an independently run theatre that retains its classic charm. Whether you're an outdoor enthusiast or a history geek, Marple has something for you.
What to Expect for the Weather in Stockport
Spring: Spring breathes new life into Stockport with the blossoming of flowers and verdant landscapes. You can expect temperatures to range from the mid-50s to the mid-60s. Pack a light jacket, as you might encounter a couple of rainy days.
Summer: Summer in Stockport is lively and warm, with temperatures typically hovering between the high 60s and low 70s. It's the perfect weather for a leisurely boat ride on the River Mersey or a picnic in one of the city's many parks.
Do note, it can get a bit crowded during the school holidays in late July and August.
Autumn: Autumn sees Stockport adorned with hues of red, orange and yellow, creating a picturesque setting. The temperatures range from the low 50s to mid-60s, ideal for those crisp, countryside walks.
Don't forget your umbrella, as the city can get some rain during this season.
Winter: Winter in Stockport can be a bit chilly with temperatures often falling into the mid-30s. You might even see a sprinkle of snow adding a magical touch to the cityscape.
It's the perfect time to explore the indoor attractions, enjoy a hot cuppa in the local cafes, and take in the festive Christmas market scene. Remember to dress in layers to stay warm!
Apps to Download for a Trip to Stockport
Uber: Ride hailing, electric bikes and motorised scooters, food delivery
iOs | Android
Google Translate: word translation with offline capabilities
iOs | Android
TheFork: Guide to restaurants, in-app table reservations
iOs | Android