Categories >
Guides and Tips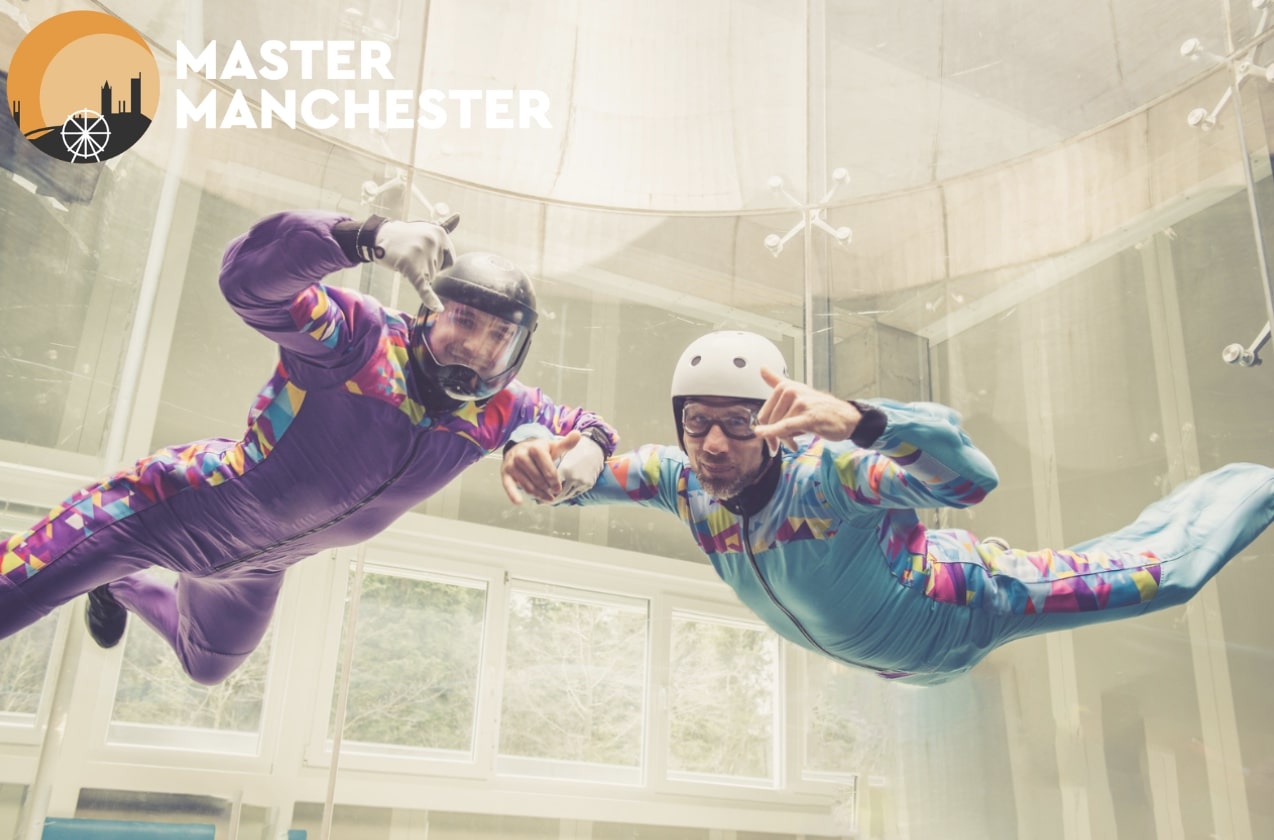 Indoor Skydiving in iFly Manchester: An Essential Guide
Ready to take the plunge without actually, you know, plunging from a plane? Go to the wild world of indoor skydiving at iFly Manchester! Whether you're an adrenaline junkie or a curious newbie looking to spread your wings, this guide has got you covered.
From gravity-defying thrills to chic hotels, scrumptious eateries, and quirky shops nearby, we're serving up all you need to know. So tighten those goggles, my adventurous friend, your sky-high adventure awaits!
Time Zone
Greenwich Mean Time (GMT+1)
Best Time to Go
Ready for a flight but don't know when to go? iFly Manchester is fun all year round. Weekdays are usually less busy, so you can spread your wings without much wait.
Fancy a special instructor-led session? Keep an eye on their events calendar; you never know when you might catch a professional skydiver showing off a trick or two!
Things to Know
Location: iFly Indoor Skydiving, 9 Trafford Way, Manchester M41 7JA, UK
Operating Hours:
Monday to Friday: 10 AM to 10 PM
Saturday: 9 AM to 10 PM
Sunday: 9 AM to 9 PM
Tickets:
First-Time Flyers Packages start at £29.99
Various packages available, including family deals
Duration of Flight: Typically a 2-hour experience, including training and two flights.
Accessibility: iFly is accessible to people of various abilities. For specific queries, it's best to contact them directly.
Contact Information:
Phone: +44 843 178 7473
Email: info.manchester@iflyworld.co.uk
How to Get to iFly Manchester
Walking: iFly Manchester is located at Trafford Centre, so it's easy to explore on foot if you're in the area shopping.
Buses: Several local bus routes like the 250 and X50 run near iFly, dropping you off near the Trafford Centre.
Taxis and Ride-Sharing: Taxis and ride-sharing services like Uber operate in Manchester, so you can easily reach iFly from anywhere in the city.
Private Car: If you prefer driving, there's free parking available at the Trafford Centre. So no need to worry about the car while you're off flying high!
What to Do in iFly Manchester Indoor Skydiving
Try the indoor skydiving experience
Who needs a plane when you can experience the adrenaline of skydiving indoors? At iFly Manchester, you can take the plunge without even stepping foot off solid ground! Strap on a suit, slap on a helmet, and let the wind tunnel whisk you away.
Whether you're an adrenaline junkie or a complete novice, this flight of fancy will have you grinning from ear to ear. And the best part? No need to worry about parachute packing or pesky gravity. Just float like a butterfly and laugh like you've just discovered wings!
Get thrilled with the virtual reality skydiving
Think indoor skydiving is a blast? Wait till you add virtual reality to the mix! With iFly's Virtual Reality Skydiving experience, you're not just floating; you're flying over exotic locations, feeling every swoop and dive like you're really there.
Ever wanted to soar over the Alps or buzz through the Grand Canyon? Now's your chance! Slap on a headset and get ready for a flight that's as real as imagination can make it. Trust me; this is one experience that will have your reality feeling a little bland in comparison.
Sign up for an adventure for kids
Let's face it; kids were born to fly. If you've ever watched a little one leap from couch to couch, you know what I'm talking about. iFly's Airborne Adventure for Kids lets the little ones unleash their inner Superman or Wonder Woman in a safe and controlled environment.
With instructors who've got more patience than a kindergarten teacher and more enthusiasm than a Saturday morning cartoon host, your kiddos will be flying high in no time. And who knows, you might just earn the "Coolest Parent Ever" badge!
Join the skydiving training courses
Want to take your skydiving love to the next level? iFly offers skydiving training courses for those looking to get serious about their wind-tunnel wanderlust. Learn the techniques, the lingo, and the love of all things airborne from seasoned pros.
Whether you're considering outdoor skydiving or just want to perfect your indoor form, this course is like boot camp for your skydiving soul. Salute the skies and sign up today. You won't regret it, recruit!
Plan a group and party experience
Got a birthday coming up? Office team looking a little bored? iFly's group and party experiences are the perfect way to shake things up and send spirits soaring—literally. With packages for every age and adventure level, your event will be the talk of the town.
Imagine the faces of your colleagues or friends as they float like feathers and laugh like lunatics. Whether it's a family gathering or an unusual bonding activity, it'll be a party that no one will forget—except maybe the one who closed their eyes the whole time.
Enrol your kiddoes to flight school for young flyers
Why should grown-ups have all the fun? iFly's Flight School is dedicated to the young flyers out there, aged 4 to 16, who dream of becoming the pilots of their destiny. Led by world-class flight instructors, these courses offer an in-depth and hands-on learning experience.
But wait, it's not all textbooks and theories here. There's real flying involved, plus a dash of physics and a sprinkle of fun. It's like Hogwarts for flying, minus the magic wands.
If your little one has a penchant for the air, this could be their first step toward becoming a real pilot. "Captain Kiddo" does have a nice ring to it!
Feel empowered with disability-friendly flights
Who said the sky's the limit? iFly believes in flying without boundaries, and that's why they've created Disability-Friendly Flights. With specially trained instructors and adaptive equipment, everyone can have a chance to experience the joy of flying.
It's about more than just having fun; it's about empowerment, freedom, and the sheer thrill of defying gravity. So bring your dreams, your courage, and your desire to fly. iFly will take care of the rest. Trust me; it's going to be an uplifting experience, in every sense of the word!
Where to Stay in Manchester for iFly Indoor Skydiving
Travelodge Manchester Trafford Park
Address: 17 Trafford Way, Stretford, Manchester M17 8DD, UK
Phone: +44 871 559 1861
Pricing: £
Looking to soar through the sky but have your budget firmly grounded? Travelodge Manchester Trafford Park to the rescue! It's so close to iFly Manchester, you might just get a sneak peek of your indoor skydiving instructor during breakfast.
The rooms? Clean and simple, like your auntie's living room, but without the awkward family photos. Spend your day flying high, and then snuggle into a cosy bed that fits your budget as perfectly as that one-size-fits-all jumpsuit they'll hand you at iFly.
Hotel Football Old Trafford
Address: 99 Sir Matt Busby Way, Stretford, Manchester M16 0SZ, UK
Phone: +44 161 751 0430
Pricing: £££
Hotel Football Old Trafford: where football meets indoor skydiving in a beautiful matrimony of athleticism and adrenaline. Ever wondered what David Beckham might feel like flying through the air? Well, wonder no more!
Your room here is more stylish than a midfielder's haircut. Kick back and enjoy the on-site restaurant, or play a game on the rooftop football pitch. Talk about an action-packed day! Whether you're scoring goals or defying gravity, this place turns every stay into a highlight reel.
Hilton Garden Inn Manchester Emirates Old Trafford
Address: Emirates Old Trafford Cricket Ground, Brian Statham Way, Manchester M16 0PX, UK
Phone: +44 161 868 7100
Pricing: £££
Ever dreamed of being caught between cricket and a flying place? Hilton Garden Inn at Emirates Old Trafford marries the grace of cricket with the thrill of indoor skydiving. Howzat for a combination? The rooms are as crisp as a new cricket white, and the views of the pitch? A century in the making!
Enjoy an elegant meal on-site and discuss your flying tactics. Or, if you're like me, simply admire the view while daydreaming about your graceful (or not-so-graceful) moves at iFly Manchester. Either way, it's a smashing hit!
INNSiDE by Melia Manchester
Address: 1 First St, Manchester M15 4RP, UK
Phone: +44 161 200 2500
Pricing: £££
If indoor skydiving has got you all giddy for more sleek and modern thrills, INNSiDE by Melia Manchester is your next stop. It's like that hip friend's apartment you've always wanted – minus the unexplained art on the walls.
Slick, cool, and unapologetically stylish, this place is the antidote to the ordinary. Who wants a dull room when you can have chic décor, dazzling city views, and a restaurant that makes you go "Yum!" before you even taste the food?
After touching down from iFly, rejuvenate at the on-site spa, or simply lounge in your room feeling like a modern-day superhero. Ready to fly again tomorrow?
The Lowry Hotel
Address: 50 Dearmans Pl, Salford, Manchester M3 5LH, UK
Phone: +44 161 827 4000
Pricing: ££££
Finally, let's talk about The Lowry Hotel. Because after flying through the air at iFly Manchester, you deserve to land in luxury. Picture this: You, in a bathrobe, post-flight, pondering life's great mysteries, like "How do they make those towels so fluffy?" 
The rooms are spacious, the dining is fine, and the river views are as inspiring as your newfound love for skydiving. And if you're anything like me, you'll also appreciate the art collection almost as much as the breakfast spread.
If you're looking for elegance with a sprinkle of quirkiness, The Lowry Hotel is your landing zone. It's not just a stay; it's a fabulous experience that pairs perfectly with your skydiving escapades. Touchdown!
Where to Eat in iFly Manchester Indoor Skydiving
Salvis Mozzarella Bar
Address: Unit FC7, Manchester Arndale, Manchester M4 3AQ, UK
Phone: +44 161 222 8021
Pricing: ££
Website

Salvis Mozzarella Bar is like a little Italian hug in the heart of Manchester. "Cheesy," you say? Well, with a spread of mozzarella that will make you want to dance the Tarantella, it's only fitting.
This place offers a taste of Italy that's so authentic, you might just forget you're in England. Whether you're a cheese lover or a pasta fanatic (or like me, both), the menu is packed with choices that will make you feel "mamma mia!" good. And the wine? Let's just say, prepare to raise a glass to a meal well done.
The Lift Up Cafe
Address: Trafford Quays Leisure Village, Trafford Way, Manchester M41 7JA, UK
Phone: +44 161 749 2222
Pricing: £
Looking for a quick pick-me-up between flights? The Lift Up Cafe is your go-to pit stop. It's more than just a cafe; it's a warm cup of motivation for your next indoor skydiving adventure.
From steaming cups of coffee that'll boost your pre-flight nerves to sandwiches that taste like they've been crafted by the sandwich gods themselves, this place is a hidden gem. Casual and cosy, it's a delightful spot to grab a bite, share a laugh, and plan your next aerodynamic stunts.
Trust me, even the muffins seem to cheer you on here!
The Lodge – Bar & Kitchen
Address: Trafford Quays Leisure Village, Trafford Way, Manchester M41 7JA, UK
Phone: +44 161 749 2222
Pricing: ££
Ready for a culinary adventure as thrilling as your indoor skydiving experience? Welcome to The Lodge – Bar & Kitchen, where the food is heartwarming, and the drinks are as smooth as your landing (hopefully). Think of it as your après-skydiving spot, with a menu that's as welcoming as your favourite childhood blanket.
Whether you're indulging in a juicy burger or toasting to new heights with a craft beer, The Lodge feels like home. The décor? Rustic-chic meets "I-want-that-in-my-living-room." Gather your fellow flyers and feast; you've earned it!
Nando's Manchester – Beyond
Address: Unit 7, Beyond, Trafford Way, Stretford, Manchester M41 7JA, UK
Phone: +44 161 747 9356
Pricing: ££
How cheeky can chicken get? At Nando's Manchester – Beyond, it's as cheeky as your best mate's grin! Nando's is the kind of place where you can get fiery with your food and feel like a culinary daredevil.
Choose your level of spice, grab some peri-peri goodness, and dig in. It's a no-judgment zone, so feel free to get messy and lick those fingers clean. It's not just a meal; it's a rite of passage. Been there, done that, got the sauce stain to prove it.
Castle In The Air
Address: 2 Trafford Way, Stretford, Manchester M41 7LW, UK
Phone: +44 161 746 9000
Pricing: ££
Ever fancied dining in a castle without all the medieval fuss? Well, Castle In The Air is here to make your fairy-tale come true! With a name like that, you're already halfway to an indoor skydiving adventure. The menu is as diverse as your grandma's recipe book, but with a modern twist.
From loaded burgers to vibrant salads, there's something for every knight and princess in your crew. The ambiance is inviting, and the staff are friendlier than your favourite storybook characters. One meal here, and you'll be reigning supreme over flavour town.
Las Iguanas
Address: 84 Deansgate, Manchester M3 2ER, UK
Phone: +44 161 819 2606
Pricing: ££
Put on your dancing shoes, amigos! Las Iguanas is bringing the Latin American fiesta straight to Manchester. Here, the tapas are as lively as a salsa beat, and the cocktails? Ay caramba, they're good!
If you're in the mood for flavours that shimmy and shake across your palate, this is the place to be. Whether you choose enchiladas, tacos, or something you can't pronounce but sounds utterly delicious, you're in for a culinary carnival. Just be warned: You might leave with a sudden urge to dance the night away.
Oh You Pretty Things Champagne & Cocktail Bar
Address: Trafford Centre, Stretford, Manchester M17 8AA, UK
Phone: +44 161 746 8484
Pricing: £££
Oh You Pretty Things, you had me at "Champagne & Cocktail Bar." This spot is for the suave and the sassy, the elegant and the effervescent. It's where James Bond would grab a martini if he were into indoor skydiving.
From bubbly champagne to creative cocktails that make you feel like an artist with a shaker, this place is all about indulgence. The décor is swanky, the vibes are smooth, and if you listen closely, you might just hear the glasses clinking in approval. It's a date night, a friend's night, a "Why not?" night all rolled into one.
Pesto
Address: Trafford Centre, Trafford Blvd, Stretford, Manchester M17 8AA, UK
Phone: +44 161 749 8228
Pricing: ££
Ah, Pesto! The name itself sounds like an Italian whisper, promising an affair with flavor that you'll reminisce about for days. Here, the piattini (that's small plates to you and me) are crafted with a love for Italian cuisine that's downright contagious.
Share a meal, share a moment, share that last bite of bruschetta (or not, no judgment here). It's a place for food lovers, family gatherers, and those who believe that a sprinkle of Parmesan makes life better. If your tummy could send thank you notes, Pesto would get a heartfelt one.
The Swinging Bridge
Address: 1 Park Rd, Stretford, Manchester M32 8QJ, UK
Phone: +44 161 747 4001
Pricing: ££
No, it's not a bridge, and no, it doesn't swing. The Swinging Bridge is, in fact, a pub that welcomes you like a good friend with a hearty pat on the back.
Here's where you can unwind with your skydiving buddies over a pint, a pie, or both (because, why not?). The vibe is laid-back, the food is classic comfort, and the beer? Well, it flows like your endless stories of aerial acrobatics. It's the sort of place that makes you want to stay, chat, and maybe order just one more round.
YO! Sushi
Address: Trafford Centre, Stretford, Manchester M17 8AA, UK
Phone: +44 161 747 1161
Pricing: ££
Roll on over to YO! Sushi, where the fish is fresh, the rolls are rocking, and the conveyor belts are, well, conveying. This place isn't just a restaurant; it's a sushi-soiree on the move, literally.
Sit down, grab some chopsticks, and let the little colourful plates make their way to you. Want to feel like a sushi sensei? Just nab that dragon roll as it whizzes by. Feel like a culinary daredevil? Go for the wasabi challenge.
The ambiance is as lively as a Tokyo street, and the menu is as varied as a fisherman's tale. From sashimi that'll make you swoon to tempura that tempts, there's something for every sushi lover and sushi newbie.