Categories >
Guides and Tips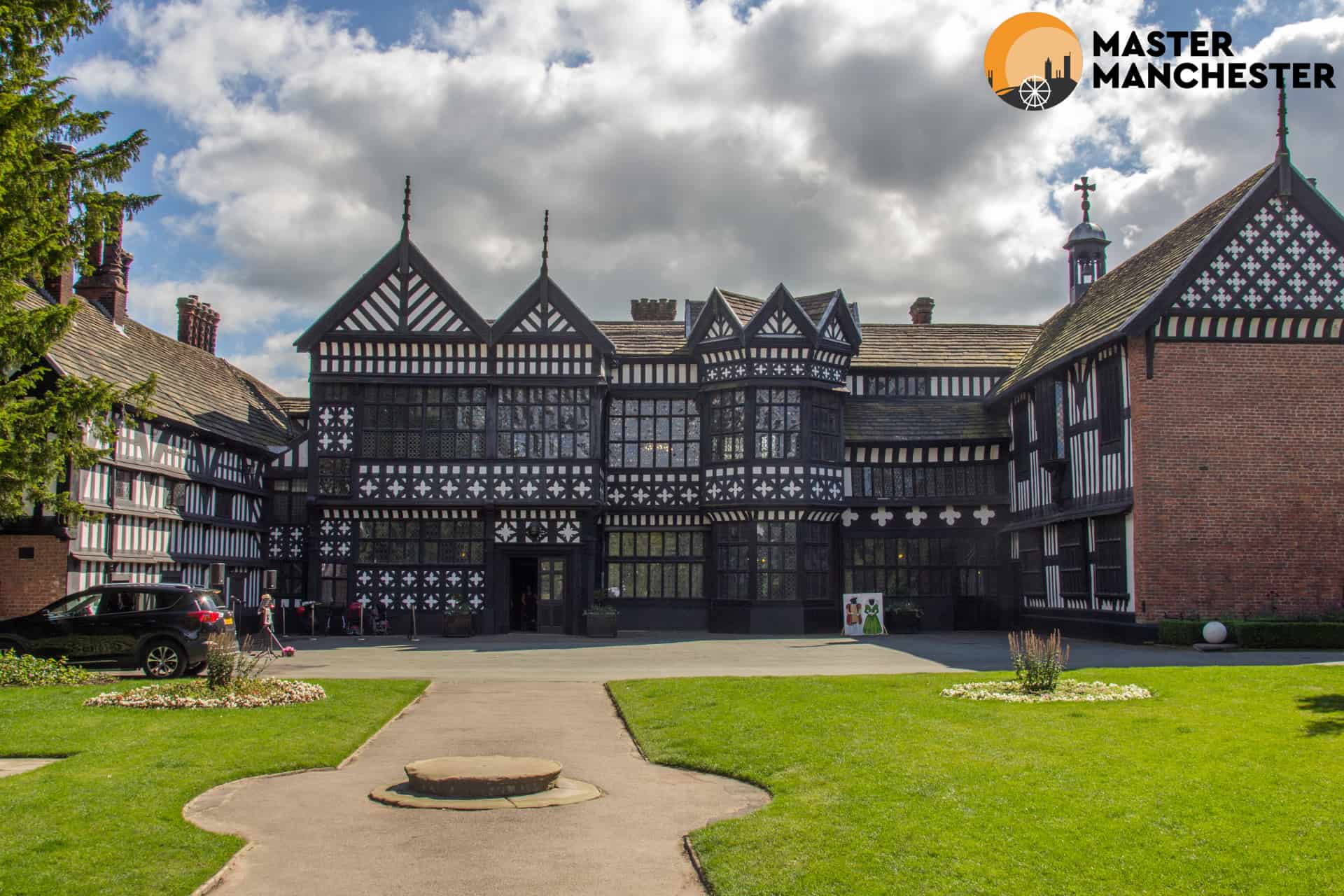 Our Complete Travel Guide to Bramall Hall Manchester 
There's nothing quite like magnificent architecture that makes your experience in a well-known place much more exciting. This is certainly true for Bramall Hall in Manchester which is one of the most culturally-integral areas in the city that has to show for!
If you're in town for some magic in Manchester, don't hesitate to stop by Bramall Hall— and we have just the best guide to get you the most out of your experience here!
Time Zone
British Summer Time (GMT+1)
Best Time to Go
Bramall Hall is a Tudor manor house in Bramhall, within the Metropolitan Borough of Stockport, Greater Manchester, England. It's a beautiful place to visit, showcasing fine examples of historic architecture, period rooms, and beautiful gardens.
Weather: If you want to enjoy the gardens, it might be best to visit in late spring, summer, or early autumn when the weather is milder.
Special Events: Bramall Hall may host events, exhibitions, or workshops that may be of interest to you. Check their calendar to align your visit with something special.
Avoiding Crowds: If you prefer a quieter experience, weekdays outside of school holidays may be the best time to visit.
Seasonal Beauty: Different seasons may offer various aesthetic appeals, such as the gardens in bloom during spring or the atmospheric feel during the winter, especially if they have any seasonal decorations or events.
Things to Know
Address: Hall Rd, Bramhall, Stockport SK7 3NX, United Kingdom
Contact: +441614742020
Website: https://www.stockport.gov.uk/topic/bramall-hall
Opening Hours: Wednesday to Friday, Sunday 11 AM to 4:30 PM; Saturday, Monday, and Tuesday, closed
Inside Bramall Hall
Bramall Hall, a historic Tudor manor house, is open to the public, allowing visitors to explore its beautifully preserved period rooms adorned with antiques and historical artifacts.
Guided tours often offer insights into the hall's rich history and the lives of its past inhabitants. The hall showcases various eras of English history, with rooms furnished (furnished apartments Manchester) to reflect their period-specific uses.
Ownership of Bramall Hall
The Metropolitan Borough of Stockport is the proud owner of Bramall Hall. After a series of private owners, the local council assumed responsibility for the hall and its encompassing parkland, maintaining it as both a museum and a key attraction for visitors.
The Expansive Bramhall Park
Enveloping Bramall Hall, Bramhall Park is a scenic green haven spanning roughly 70 acres (28 hectares). The park boasts diverse areas including woodlands, gardens, ponds, and walking trails, making it a favored destination among locals and tourists alike.
Complementing the historic appeal of Bramall Hall, the park offers recreational facilities, children's play areas, and ideal spots for picnicking. It's a venue tailored for history enthusiasts, nature lovers, and those looking for a serene getaway.
History of Bramhall Park's Development
While the concept of 'building' doesn't traditionally apply to Bramhall Park, its transformation over the ages is evident through landscaping, the introduction of diverse flora, and the creation of multiple amenities.
Bramall Hall, the focal point of the park, has its earliest structures dating back to the 14th century. Over the subsequent centuries, particularly the 16th and 19th, it underwent significant modifications.
As an integral part of the estate, the parkland and gardens have seen numerous evolutions, each echoing the varying ownerships and prevalent trends in landscape design.
Dog Accessibility at Bramhall Park
Bramhall Park, which encircles Bramall Hall, is generally accommodating to dogs. The park, with its diverse paths and expansive open spaces, is a favored spot for dog owners to walk their canine companions.
Restrictions for Dogs
While the park is welcoming to dogs, certain restrictions might be in place. Inside Bramall Hall, as well as specific zones of the park like children's play areas or particular gardens, dogs might not be permitted.
Additionally, some parts of the park may mandate that dogs (Things to do in Manchester with a dog) remain on leads, either always or during designated hours.
How to Get There from Manchester
Train: Take a train from Manchester Piccadilly Station to Bramhall Station. The journey typically takes around 20 minutes. Brhamall Hall is about a mile away from the station, so you can either walk (around 20 minutes) or take a local taxi or bus.
Bus:
Bus Route: Typically, you can take the bus service, such as the 192, from Manchester's Piccadilly Gardens or Manchester Piccadilly Station to Stockport.
Alighting in Stockport: Disembark at the Stockport Central Bus Station, which is a primary interchange for many local bus routes.
Connecting to Bramhall from Stockport: From Stockport Central Bus Station, you can look for local bus services that run routes to Bramhall. From here, take the 378 bus.
Arrival at Bramall Hall: Once in Bramhall, you'll find signage or local directions to guide you to Bramall Hall. It's usually a short walk from the main bus stops in the village.
Taxi: You can simply take a taxi from the city center of Manchester or Stockport directly to Bramall Hall. It's a convenient but generally more expensive option.
Car Service: If you're driving, you can use a GPS or mapping service for the best route. There is parking available on-site. You can also use a ride-sharing service like Uber or book a private car service to take you directly to Bramall Hall.
Things to See and Expect 
Tudor Architecture and Original Timber Framing
Bramall Hall is a stunning example of Tudor architecture, with its original timber framing dating back to the 14th century.
As you approach the building, you'll be struck by the intricate black-and-white half-timbered façade, a characteristic feature of Tudor design. Inside, the wooden beams continue to provide an authentic glimpse into the past.
The way the wood has been preserved and the craftsmanship involved in its construction offer a tangible connection to the period and provide a rich architectural experience that transports visitors back in time.
Period Rooms and Historical Interiors
Inside Bramall Hall, you'll discover beautifully preserved period rooms that reflect various stages of the building's history.
Each room is adorned with period-appropriate furnishings, textiles, and artifacts. From the grandeur of the Great Hall to the intimacy of the Victorian Withdrawing Room, each space offers a window into a different era.
The attention to detail in the décor provides an immersive historical experience, allowing visitors to imagine the daily lives of the people who once called Bramall Hall home.
The Staircase and Stained Glass Windows
One of the standout features of Bramall Hall is its magnificent wooden staircase, which is a work of art in itself. The craftsmanship of the carving demonstrates a high level of skill and creativity. As you ascend the staircase, you'll also notice the beautiful stained glass windows.
These windows not only provide stunning visual appeal but also cast colorful patterns of light within the space, creating a mystical and ethereal atmosphere. The combination of the carved wooden details and the stained glass is a visual feast that showcases the artistic sensibilities of the time.
The Gardens and Parkland
Surrounding Bramall Hall, the 70-acre parkland offers a perfect blend of manicured gardens, woodland, and water features.
The gardens have been designed with both aesthetic appeal and functionality in mind, with areas dedicated to specific plants and themes. Wander through the formal gardens, admire the seasonal blooms, and enjoy the tranquility of the ponds.
Also, the parkland provides a peaceful escape and the chance to connect with nature. Whether you're interested in gardening, bird-watching, or simply taking a leisurely stroll, the outdoor spaces at Bramall Hall have something to offer everyone.
Art Exhibitions and Collections
Bramall Hall hosts various art exhibitions and collections that add a cultural dimension to your visit. From historical paintings that depict scenes from the hall's past to contemporary art installations, there's often something new to explore.
The integration of art within the historical setting provides a multifaceted experience, allowing visitors to engage with both the past and present. The curated exhibitions reflect not only the aesthetic tastes of different periods but also the broader cultural and social contexts.
Guided Tours and Historical Interpretation
To fully appreciate the rich history of Bramall Hall, guided tours are often available. Knowledgeable guides take visitors through the various rooms (Escape rooms in Manchester) and outdoor spaces, providing insights into the architecture, décor, and the lives of the families who lived there.
These tours offer a deeper understanding of the hall's significance and its place within the broader historical landscape. Engaging storytelling and historical interpretation bring the past to life, making the experience both educational and entertaining.
Children's Activities and Family-Friendly Features
Bramall Hall is an engaging destination for families, offering a range of activities designed specifically for children. From interactive displays to hands-on workshops, young visitors are encouraged to explore and learn.
Seasonal events, such as Easter egg hunts or Halloween activities, add an extra layer of fun. The combination of indoor and outdoor spaces provides plenty of room for exploration and play, ensuring that a visit to Bramall Hall can be a memorable family outing.
Seasonal Events and Themed Celebrations
Throughout the year, Bramall Hall hosts various seasonal events and themed celebrations that enhance the visitor experience.
Whether it's a traditional Christmas market, a summer garden party, or a historical reenactment, these events offer unique opportunities to engage with the hall and its surroundings.
Carefully planned and executed, these occasions provide a festive atmosphere and often include food, music (rock bars Manchester), crafts, and entertainment. Participating in these events adds a special dimension to a visit and allows guests to connect with the local community.
Café and Dining Options
After exploring the hall and gardens, visitors can enjoy a meal or refreshment at the on-site café. Offering a selection of locally sourced foods and beverages, the café provides a cozy place to relax and reflect on your visit.
The menu often includes traditional British fare, and the setting within the hall or overlooking the gardens adds to the enjoyment. The emphasis on quality and hospitality ensures that dining at Bramall Hall is more than just a convenience— it's part of the overall experience.
Gift Shop and Souvenirs
Before leaving Bramall Hall, be sure to stop by the gift shop. Offering a range of souvenirs, books, and locally crafted products, the shop provides a chance to take home a tangible reminder of your visit.
Thoughtfully curated, the items reflect the character and charm of Bramall Hall. Whether you're looking for a special gift or a memento for yourself, the selection is designed to resonate with the themes and aesthetics of the hall and its surroundings.
Where to Eat Nearby
Cheshire Line Tavern
Address: Manchester Rd, Cheadle SK8 2NZ, United Kingdom
Contact Details: +441614283352
Website: https://www.cheshirelinetavern.co.uk/
Opening Hours: Monday to Sunday 12 to 11 PM; Saturday 12 to 10:30 PM
Situated in the heart of Bramhall, Cheshire Line Tavern offers a traditional pub atmosphere with a modern twist. It's the perfect place to enjoy a relaxed meal in a friendly setting.
The menu features classic British pub fare, such as fish and chips, pies, and burgers, but also includes some innovative and contemporary options. Vegetarian and gluten-free choices are thoughtfully provided.
The interior combines rustic wooden furnishings with chic decor, and the outdoor seating area is an added bonus during the summer months. It's a locale that appeals to both families and couples looking for a cozy dining experience.
Juniper Café
Address: 5 Woodford Rd, Bramhall, Stockport SK7 1JN, United Kingdom
Contact Details: +441614396884
Website: http://juniper-uk.com/
Opening Hours: Daily 7:30 to 5 PM
Juniper Café is a popular choice for those seeking a light lunch or a delicious breakfast near Bramall Hall. Known for its bright and airy ambiance, the café offers a menu focused on fresh, locally sourced ingredients.
From creative salads and gourmet sandwiches to indulgent pastries and cakes, there's something to satisfy every palate.
The atmosphere is casual and welcoming, making it an ideal spot for a leisurely meal or a quick coffee break. With its emphasis on quality and freshness, Juniper Café provides a delightful culinary experience in a relaxed setting.
Bombay to Mumbai
Address: 10 Fir Rd, Bramhall, Stockport SK7 2NP, United Kingdom
Contact Details: +441614390055
Website: http://www.bombaytomumbai.co.uk/
Opening Hours: Monday, closed; Tuesday to Thursday 5 to 9:30 PM; Friday to Saturday 5 to 10 PM; Sunday 5 to 9 PM
For those craving Indian flavors, Bombay to Mumbai offers a range of traditional and contemporary Indian dishes. Located not far from Bramall Hall, this restaurant prides itself on its authentic cuisine.
From rich curries to tandoori specialties, the menu captures the diversity of Indian culinary traditions. Vegetarian options are plentiful, and the chefs are happy to accommodate dietary preferences.
The decor is elegant and understated, creating an atmosphere that's both sophisticated and comfortable. It's a place where friends and family can gather to enjoy a memorable meal imbued with the aromatic spices of India.
Tre Ciccio
Address: 4a Moss Ln, Altrincham WA14 1BA, United Kingdom
Contact Details: +441614140196
Website: https://www.treciccio.co.uk/
Opening Hours: Monday and Tuesday, closed; Wednesday and Thursday 12 to 9 PM; Friday and Saturday 12 to 10 PM; Sunday 12 to 8 PM
Offering a taste of Southern Italy, Tre Ciccio is renowned for its delicious wood-fired pizzas, succulent chicken dishes, and Italian-style seafood. With a menu inspired by traditional family recipes, dining here feels like a journey to the sun-kissed landscapes of Italy.
The interior is warm and rustic, with exposed brick walls and wooden tables, all contributing to an ambiance that's both stylish and homey.
Outdoor seating is available, providing a continental dining experience in the warmer months. Whether you're in the mood for a classic Margarita or a decadent seafood risotto, Tre Ciccio promises an authentic Italian experience in a charming setting.
The Bubble Room
Address: 2-4 Ack Ln E, Bramhall, Stockport SK7 2BY, United Kingdom
Contact Details: +441614398949
Website: https://thebubbleroom.co.uk/
Opening Hours: Monday, Wednesday to Sunday 11 AM to 11:30 PM; Tuesday, closed
If you're looking for an upscale dining experience, The Bubble Room might be the perfect choice. Situated in the vibrant area of Bramhall, this restaurant and bar offers a menu that's both innovative and refined.
From succulent steaks to fresh seafood, the dishes are crafted with flair and presented with artistic attention to detail. The cocktail menu is equally impressive, providing the perfect accompaniment to your meal.
The interior is sleek and modern, with a lively yet sophisticated atmosphere that suits both special occasions and casual gatherings.
The Bubble Room's combination of culinary excellence and stylish ambiance makes it a standout option for those seeking a memorable dining experience near Bramall Hall.
Where to Stay Nearby
The Bramhall Manor Hotel
Nestled in a picturesque setting, The Bramhall Manor Hotel offers guests a luxurious stay with a touch of historical charm. Reflecting the elegance of its surroundings, the hotel features spacious rooms adorned with classic furnishings and modern amenities.
On-site, guests can enjoy a fine dining restaurant, a relaxing spa, and beautifully landscaped gardens.
The hotel prides itself on personalized service, ensuring a comfortable and memorable stay. Whether you're visiting for leisure or business, The Bramhall Manor Hotel provides an ambiance of sophistication and tranquility that complements the nearby Bramall Hall experience.
The Garden Inn
For those seeking a more intimate and homey environment, The Garden Inn is a delightful bed and breakfast located close to Bramall Hall.
With individually decorated rooms that reflect a country chic style, the inn offers a welcoming and peaceful retreat. Guests can enjoy a freshly prepared breakfast made with local ingredients, served in the charming dining room or garden terrace.
The hosts are known for their warm hospitality and are happy to provide recommendations for local attractions and dining. The Garden Inn is an ideal choice for travelers looking for a personalized and relaxing stay in a picturesque setting.
Premier Inn Stockport South
Conveniently located near Bramall Hall, the Premier Inn Stockport South offers a comfortable and budget-friendly option for travelers. The rooms are modern, well-maintained, and equipped with essential amenities.
The on-site restaurant provides a variety of meal options, including a hearty breakfast buffet. Also, the hotel's location provides easy access to both Bramall Hall and other local attractions, making it a practical choice for families and business travelers alike.
With its focus on value and convenience, Premier Inn Stockport South is a solid choice for guests seeking a no-frills yet comfortable stay.
The Woodland Boutique Hotel & Spa
Situated amidst lush woodland and close to Bramall Hall, The Woodland Boutique Hotel & Spa offers a luxurious escape.
The hotel is designed with contemporary elegance and features spacious rooms with top-of-the-line amenities. Guests can indulge in the on-site spa, which offers a range of rejuvenating treatments, or dine at the gourmet restaurant, known for its innovative cuisine.
The surrounding woodland provides a tranquil backdrop for leisurely walks or morning jogs. The Woodland Boutique Hotel & Spa combines modern luxury with natural beauty, creating an oasis of relaxation and indulgence.
Oak Tree Guest House
Offering a cozy and family-friendly environment, Oak Tree Guest House is a charming guest house located near Bramall Hall.
The rooms are tastefully decorated with a blend of traditional and modern décor, providing a homely ambiance. A delicious homemade breakfast is served daily, often featuring freshly baked goods and local produce.
The friendly hosts go the extra mile to ensure guests feel welcome and well-cared for. With its combination of comfort, affordability, and personalized service, Oak Tree Guest House provides a genuine home-away-from-home experience.
Where to Shop Nearby 
Bramhall Village Square
Bramhall Village Square is a delightful shopping area that offers a blend of boutique stores, specialty shops, and well-known brands. The Square is designed with charming architecture, giving it a quaint village feel that's both welcoming and picturesque.
Here, you'll find unique clothing boutiques, home décor stores, and artisanal food shops that provide something a little different from typical high-street offerings.
Several cafes and eateries offer spots to rest and enjoy a coffee or snack between browsing. With its blend of shopping, dining, and leisurely ambiance, Bramhall Village Square is a destination that appeals to both locals and visitors.
Cheadle Royal Shopping Park
Just a short drive from Bramall Hall, Cheadle Royal Shopping Park offers a more conventional shopping experience with a wide range of stores.
Featuring major retail chains, supermarkets, and popular fashion brands, it's an ideal destination for those looking to find everything in one place.
The layout is spacious and well-maintained, making for a pleasant shopping experience. Whether you're in need of groceries, electronics, clothing, or home goods, Cheadle Royal Shopping Park provides variety and convenience, all within easy reach of Bramall Hall.
The Vintage Emporium
For those interested in antiques, collectibles, and vintage treasures, The Vintage Emporium near Bramall Hall is a must-visit. This unique shop is filled with carefully curated items, from antique furniture and vintage clothing to unique jewelry and art.
Each piece has a story to tell, and the shop's knowledgeable staff are eager to share their insights.
The atmosphere is warm and inviting, encouraging visitors to take their time and explore. Shopping at The Vintage Emporium is like taking a step back in time, and it's a delightful destination for collectors and history enthusiasts alike.
Stockport Market Hall
If you're interested in experiencing a traditional market atmosphere, Stockport Market Hall is just a short distance from Bramall Hall.
Operating several days a week, the market features a diverse array of vendors selling fresh produce, meats, baked goods, crafts, and more. It's a lively and bustling place where you can enjoy the ambiance of a genuine local market.
Alongside the fresh food stalls, you'll find traders offering handmade crafts, vintage items, and unique gifts. The Market Hall is not only a place to shop but also a vibrant cultural experience that offers a glimpse into local life.
Affinity Lancashire Outlet Shopping
For bargain hunters and brand enthusiasts, Affinity Lancashire Outlet Shopping is a destination worth considering.
Located a bit further from Bramall Hall, this outlet center offers an extensive selection of well-known fashion, sportswear, and lifestyle brands at discounted prices.
The open-air design and well-laid-out walkways make for a pleasant shopping experience. Along with the shops, there are several dining options available, allowing visitors to make a day of their shopping adventure.
The mix of quality brands, attractive discounts, and leisurely environment makes Affinity Lancashire Outlet Shopping a popular choice for value-conscious shoppers.