Categories >
Guides and Tips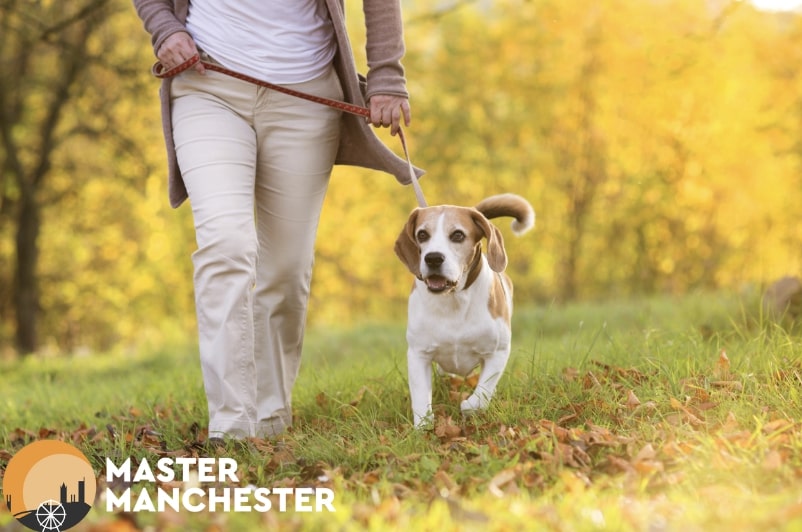 Pet-friendly Places for Fun Dog Walks in Manchester
Manchester is a city that knows how to roll out the green carpet for our four-legged friends. With an array of parks, trails, and open spaces, it's a canine paradise waiting to be explored.
Whether you're a local dog owner looking for a fresh adventure or a visitor seeking the perfect spot for a playful romp, this guide is your ticket to a tail-wagging good time.
Grab the lead, pack the treats, and put on those walking shoes. Your pup's next favourite place is just around the corner!
Debdale Park
Area: 45 acres
Who's up for a day of frolics with your four-legged friend? Debdale Park is an absolute treat! Spread across 45 vibrant acres, this park is a canine playground. Imagine walking through tree-lined paths, taking in the fresh air, while your pooch explores open fields.
There's a water reservoir, too – perfect for the adventurous doggo that loves to splash! Play areas and tennis courts are scattered around for the humans. Who knows, your pet might even outplay you!
One of the park's gems is the dedicated dog area, where new friendships, both canine and human, await. It's pure paw-some fun!
Pro tip: 
There's a cafe nearby. Perfect for grabbing a cuppa while your pup plays!
Sale Water Park
Area: 152
Ah, Sale Water Park! With 152 acres to roam, it's nothing short of a doggy paradise. The centrepiece is a fantastic lake where your furry friend might want to take a dip or bark at the ducks. Water-lovers, this one's for you.
The woodland trails? Oh, they're the perfect setting for a 'Lady and the Tramp' re-enactment (minus the spaghetti, of course). During the summer months, don't be surprised to see other dogs sunbathing with their owners.
It's a social hub for pets and humans alike, full of charm and cheer. Who needs a dog-walker when you've got Sale Water Park?
Pro tip: 
Wear comfy walking shoes; the trails here are too good to rush.
Clayton Vale & River Medlock
Area: 140 acres
Tucked away near the city centre, Clayton Vale & River Medlock is a hidden oasis for dogs and their humans. With the Medlock River gently flowing through, it's a perfect spot for a bit of splashy fun. But be warned, the squirrels are crafty here; a dog's chase is never done! 
Trails wind through the park, with surprises around each bend – open meadows, dense woodlands, and charming footbridges. Want to meet other pet parents? This is the place. And don't even get me started on the glorious sunsets!
Clayton Vale is your dog's new favourite place, even if they don't know it yet.
Pro tip: 
Bring a towel, especially if your furry buddy loves the water. You'll thank me later!
Fletcher Moss Gardens and Stenner Woods
Area: 90 acres
"Wait, this is still Manchester?" That's what your pup will probably be thinking at Fletcher Moss Gardens and Stenner Woods. Spanning 90 enchanted acres, the magical woodlands and meticulously maintained gardens will have both of you wagging your tails in delight.
Fancy a stroll amidst rare botanical specimens? How about a game of fetch in an ancient woodland? This place is straight out of a fairy tale, and your dog might just meet a squirrel prince or princess!
I once saw a poodle pulling its owner to the rockery, probably thinking it was some ancient ruins. Classic!
Phillips Park
Area: 325 acres
"Wow, Phillips Park, you're looking quite fetching today!" I once told this to my dog as we entered the park, and he seemed to agree, wagging his tail in sheer joy. Spanning 31 welcoming acres, this isn't just a park; it's a carnival for dogs.
Want your dog to become a social butterfly? Phillips Park has more friends waiting than a pup's Facebook account! The wooded areas are prime territory for a good old-fashioned romp, and the open fields are perfect for…you guessed it, more fetch!
Honestly, if my dog had his way, he'd probably move in.
Pro tip: 
There's an ice cream van sometimes – grab a cone for you and a bowl of water for your pup!
Platt Fields
Area: 170 acres
170 acres of doggie heaven, that's Platt Fields for you! Imagine your pooch's face when they see the vast open fields, the picturesque lake, and the playful ducks. It's enough to make any tail wag faster than a mixer at a cake factory!
Ever seen a dog try to 'herd' geese? It's a laugh and a half. With beautiful gardens and pathways to explore, it's a dog walker's dream come true. My pup once tried to join a game of cricket here, thinking the ball was his – talk about a boundary breaker!
Pro tip: 
Visiting during the summer? Don't miss the rose gardens. You'll love them, and so will your dog's nose!
Wythenshaw Park
Area: 270 acres
Wythenshawe Park isn't just a walk in the park; it's an adventure of 109 thrilling acres! It's like Disney World for dogs. From woodland trails that whisper secrets to vast lawns perfect for rolling, your canine companion will have the time of their life.
Historical buildings dot the park, adding a touch of elegance. I swear, my dog thinks he's royalty when he prances around here.
And who could forget the community farm? More sniffing opportunities than a detective's convention! It's a wag-worthy destination, paws down.
Worsley Woods
Area: 85 acres
Ah, Worsley Woods, the 85-acre treasure trove of Greater Manchester. If your dog's a fan of woodland explorations, strap on those walking boots – you're in for a treat! The winding paths are like a labyrinth, but instead of a Minotaur, you might find a playful squirrel or a curious rabbit.
My dog loves to pretend he's Indiana Jones here, navigating through the trees and over quaint bridges. It's a mystical place, where tails never stop wagging, and tongues never cease to pant. Ready for an expedition? Your furry friend surely is!
Pro tip: 
The mud can be tricky, so pack those wellies. Adventure awaits, but so do muddy paws!
Chorlton Water Park
Area: 170 acres
Chorlton Water Park is not just a park; it's a 170-acre celebration of nature that your furry companion will adore! This place has a little bit of everything. There's a lake where your water-loving doggo can have a splash or simply admire the ducks doing their thing.
The walking paths are friendly to both human and canine feet, meandering through beautiful woodlands that seem to change with every season. Got a sociable pup? The dog community here is thriving, and it's a great place to make friends. 
I once spent an afternoon watching my dog engage in a sniffing marathon with a new buddy – priceless! If your dog could make a bucket list, Chorlton Water Park would undoubtedly be on it.
Pro tip: 
Bring some extra treats; there's plenty of opportunities for training or rewarding good behaviour here.
Heaton Park
Area: 600 acres
Ah, Heaton Park, the whopping 600-acre green wonderland that might just become your dog's new favourite place on earth. It's a park that seems to go on forever, filled with exciting trails, open fields, woodlands, and even a boating lake.
You could spend a whole day here, and your pup would still find new places to explore and sniff. Whether you're strolling around the ornamental gardens (your dog might just appreciate the art of topiary) or watching them play with other furry friends, Heaton Park promises a fantastic day out. 
My dog once became an honorary member of a local football game here – talk about being part of the team! Pack a picnic, grab the leash, and let the adventure begin.
Pro tip: 
There's a charming little café near the lake, perfect for a mid-walk pit stop.
Peel Park
Area: 56 acres
Peel Park, with its 56 acres, might not be the biggest park in Manchester, but it surely knows how to charm both humans and dogs. It's a park filled with history and character, with stunning green spaces that invite running, playing, and lounging.
The beautiful river adds a touch of serenity, and you might find your pup gazing at it thoughtfully, pondering the meaning of life (or perhaps where the next treat is coming from). The atmosphere is friendly, and you'll find fellow dog lovers and pups enjoying their time.
My dog once embarked on an impromptu treasure hunt here, digging gently near a tree, convinced there was something exciting to discover – alas, only mud! But the joy was all real. Peel Park is like a good book; it's not the size but the content that counts.
Pro tip: 
Look out for local art and sculptures – they add a cultural twist to your walk!
The River Mersey
The River Mersey isn't just a river; it's a scenic journey your pooch will never forget. With various walking paths along its banks stretching for miles, it offers ever-changing landscapes for curious canines.
Whether trotting through lush woodlands or pausing to watch boats, your furry friend's nose will be in overdrive with all the new smells. My pup once decided to test the water with a brave paw, only to leap back in surprise at the chill. The chuckle that earned me!
The Mersey is more than a walk; it's an exploration into nature's finest art gallery. Paintings not required; the views are real!
Pro tip: 
Keep an eye on the paths; some can be muddy after a good rain. No one likes a muddy pup… or do they?
Clifton Country Park
Area: 119 acres
Nestled away like a hidden gem, Clifton Country Park's 48 acres of rural splendour await you and your four-legged adventurer. Imagine your dog's tail wagging like a metronome set to 'happy' as they explore the trails, woodlands, and lakes.
The wildlife here is a bonus entertainment channel for your pup, with birds to watch and sniffing spots that tell tales of rabbits. My dog once spotted a frog here and the jumping contest that ensued was legendary in cuteness.
Whether it's the sparkle of the lake under the sun or the whisper of the wind through the trees, Clifton Country Park offers a joyful escape for you and your pet.
Pro tip: 
Bring a camera; the views are too good not to be immortalized!
The Loopline, Tyldesley
Ah, The Loopline in Tyldesley, where the journey is the destination and every step has a story. It's a favourite for cyclists and walkers, but let's not forget the VIPs – Very Important Pups! With various landscapes and surfaces, it's like a buffet for the senses.
Your furry companion can enjoy sniffing around woodland one minute and prancing through open fields the next. The flat path is ideal for a leisurely walk or a spirited run.
I once raced my dog here, only to realize halfway that my fitness level was nowhere near his. He seemed to laugh at me in his own doggy way!
Pro tip: 
Pack water and snacks; once you're on the Loopline, you'll want to keep going!
Tandle Hill National Park
Area: 110 acres
Tandle Hill National Park, a 110-acre oasis that's sure to become your furry friend's favourite stomping ground. With an inviting mix of woodland trails and open grassland, your pooch won't know which way to run first!
From the majestic veteran trees to the vibrant wildflower meadows, there's something to delight every canine explorer. My own dog once tried to outdo the squirrels at their own climbing game here – the result? Let's just say she stuck to the ground afterward!
If you want to enjoy breathtaking views, happy barks, and wagging tails, Tandle Hill is your go-to destination.
Pro tip: 
Don't miss the viewpoint; the panoramic sights are worth the climb, and it's the perfect spot for a pup selfie!