Categories >
Guides and Tips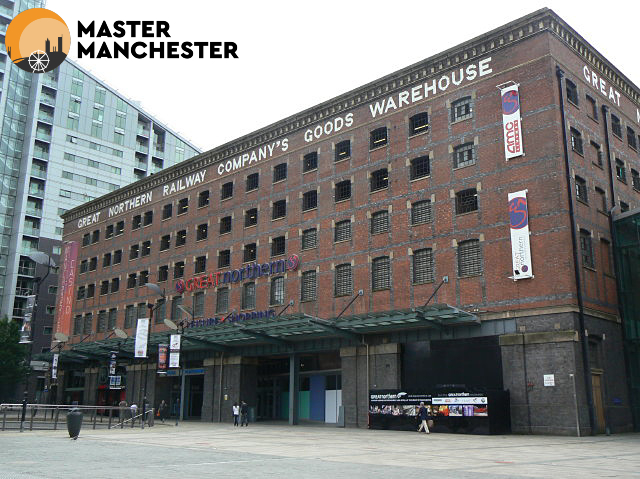 Our Complete Travel Guide to Great Northern Square, Manchester 
Just like any other squares and streets in Manchester, the Great Northern Square is one that every tourist or local should visit.
With a beautiful display of scenery and a bunch of great areas to consider going, you owe it to yourself to stop by! But before that, read on below to find out which areas specifically are the best to go to and its background in Manchester's culture overall.
Time Zone
British Summer Time (GMT+1)
Best Time to Go
Things to Know
Currency: Euro
(Check the current exchange rate)
Language: UK English
Calling Code: +44
Address: Management Suite, 235 Deansgate, Manchester M3 4EN, United Kingdom
Contact Details: +441618328136
Website: http://www.thegreatnorthern.com/
Opening Hours: 24/7
Background Info about Great Northern Square, Manchester 
The Great Northern complex in Manchester, originally a railway goods warehouse and distribution station opened in 1899, has significant historical importance as a symbol of the city's robust industrial heritage.
Adding to its allure is the Great Northern Warehouse, a Grade II listed building, renowned for its Victorian architectural style and distinctive features that reflect an era of engineering prowess and aesthetic sensibility.
In recent years, this iconic complex has undergone a remarkable transformation, embodying Manchester's ability to blend history with modernity.
Through significant redevelopment, the area has metamorphosed into a bustling hub for modern leisure and retail, enhancing the urban landscape while preserving its unique historical and architectural essence.
The adaptive reuse of this space represents a triumph of urban regeneration, maintaining a tangible connection to Manchester's past while embracing contemporary trends and lifestyles.
How to Get There
Train:
Manchester Piccadilly Station: This is the main train station in Manchester, and from here you can either walk (approximately 15-20 minutes) or take a tram or bus to get closer.
Manchester Oxford Road Station: Slightly closer to Great Northern Square, you can walk from here in about 10 minutes or take a local bus.
Bus: Many bus routes run through the city centre and stop near Great Northern Square. There are several bus stops within walking distance of Great Northern Square. Stops on Deansgate and Peter Street may be the most convenient.
Many city centre bus routes pass close to Great Northern Square. You might look for routes that run along Deansgate, such as the Metroshuttle free bus services.
Taxi: You can hail a black cab from anywhere in the city or find them at designated taxi ranks. You can also book a minicab (private hire taxi) through local taxi companies.
Car Service: Companies like Uber operate in Manchester and can be a convenient option to get to Great Northern Square. If you prefer a more luxurious experience, you can book a private car service through various local companies.
Things to Do
Experience contemporary cinema at Odeon
Right in the heart of Great Northern Square, Odeon's where it's at with the latest blockbusters and indie films. Dive in and get lost in their killer sound and visuals.
They've got special screenings, filmmaker Q&As, and some sweet deals for families and students. And if you're into live sports, operas, or ballets, they've got that too. Don't even get me started on their on-site café and bar!
Along with its luxurious seating and state-of-the-art facilities, Odeon offers special deals on family and student tickets.
They also feature live satellite broadcasts of major sports events, operas, and ballet performances. The on-site bar and café serve a variety of snacks and beverages, enhancing the overall cinema experience.
Discover Manchester's history at the Great Northern Warehouse 
Fancy a trip down memory lane? This place was once a hopping railway warehouse, and now it's the go-to for shopping and entertainment.
I mean, just the architecture alone tells a story. They've even got a bowling alley and a luxury gym. Snap-happy folks, this one's a treat.
The architecture itself narrates the city's industrial past, while boutique shops and eateries cater to modern tastes. Exploring the warehouse provides insight into Manchester's rich heritage.
Along with retail outlets and entertainment options, the Great Northern Warehouse is home to a 16-lane bowling alley and a luxury gym.
The building's exposed brickwork and metal beams stand as a testament to Manchester's industrial era, making it a fascinating place for photography enthusiasts.
Challenge yourself at Whistle Punks Urban Axe Throwing 
Ready to flex those muscles and try something new? Over at Whistle Punks, they're teaching folks the cool art of axe throwing.
It's all fun and games, and they've got league nights, team-building sessions, and quirky themed nights. Oh, and they make sure you're safe, so no worries there.
Under the guidance of professional instructors, you can learn the art of axe throwing. Whether a beginner or an expert, it's a thrilling way to engage in friendly competition with friends and family.
Beyond regular bookings, Whistle Punks offers league nights and corporate team-building sessions.
The venue also hosts special events and themed nights, making it a dynamic destination. Safety instructions are provided, ensuring a secure environment even for newcomers to the sport.
Enjoy live performances at Manchester Opera House 
For culture vultures, there's quite an interesting place for you and your friends to visit! Just a hop, skip, and jump away, Manchester Opera House is putting on some epic shows.
The place itself is breathtaking, and are you into big night outs? Fortunately, they've got you sorted with pre-theatre dining.
Moreover, the grandeur of the building's interior, combined with world-class performances, creates an unforgettable cultural evening.
With a seating capacity of almost 2,000, the Opera House has undergone various renovations to preserve its historical charm.
The venue's ornate interior and exquisite acoustics contribute to its reputation as one of the UK's premier touring theatres. A pre-theater dining option is available, providing a complete night out.
Stroll through All Saints Park 
Need a break from the city hustle? All Saints Park is your oasis. Chill, check out some sculptures (coolsculpting manchester), dive into a bit of history, and just take a breather— plus, they're making big moves in the sustainability game.
Sculptures and historical markers dot the landscape, providing an artistic and historical exploration. It's an ideal spot for picnics, reading, or simply relaxing.
This green oasis is also home to memorials that pay homage to significant historical figures. Regular outdoor fitness classes and community events are held here, providing a dynamic community space.
The park's design has won awards for sustainability, contributing to Manchester's reputation as a green city.
Get active at Great Northern Skatepark 
Skaters, BMXers, rollerbladers, this is the place for you! Whether you're a pro or just starting, the vibe here is unmatched.
They've got competitions, exhibitions, and even free intro lessons. Pretty awesome, right? But, wait, there's a lot more to the area than meets the eye!
A popular spot for skateboarding enthusiasts, the Great Northern Skatepark offers ramps and obstacles suited for various skill levels. Whether you're a seasoned skater or just starting, the park provides a lively and supportive environment to hone your skills.
The park is not limited to skateboarding; BMX riders and rollerbladers (paradise skate world) are also welcome. Regular competitions and exhibitions attract a wide array of talent, fostering a sense of community.
Also, there are free introductory lessons that are often available, making the park accessible to all skill levels.
Delve into literature at Deansgate Waterstones 
Where are the bookworms at? Deansgate Waterstones is a dream for anyone who loves to read. Floors packed with books, cosy corners to dive into a story, and they even have a café. They host author events and have a magical kids' section.
For book lovers, a visit to the Deansgate Waterstones is a must. Spread over several floors, this bookstore provides an extensive range of titles across various genres. Comfy seating areas and a café offer the perfect setting to discover your next great read.
This iconic bookstore often hosts book signings and literary events featuring renowned authors. Specialised sections like the rare books department provide unique finds for collectors.
Lastly, there's also a children's section with engaging activities that makes it a family-friendly destination.
Attend seasonal events at Great Northern Square 
There's always a buzz at Great Northern Square. Think Christmas markets, summer film screenings, music, food festivals, and art. It's the city's beating heart all year round.
Throughout the year, the square itself is a hub for various cultural events and markets. From Christmas markets filled with artisanal crafts to summertime outdoor film screenings, there's always something happening to engage locals and tourists alike.
Great Northern Square's seasonal events include food festivals showcasing international cuisine, live music performances, and art installations from local artists.
The family-friendly environment often includes workshops, children's play areas, and live entertainment, turning the square into a vibrant community gathering space.
Explore the Science and Industry Museum 
Got a curious mind? Dive deep into Manchester's roots at this museum. It's not just a look into the past, but a whole experience.
From live demos to historic locomotive rides, it's a day out and more. And hey, they've got a café for when those feet get tired.
Housed in the historic buildings of the world's oldest surviving passenger railway station, the Science and Industry Museum offers a rich journey through Manchester's proud history as a hub of innovation, science, and engineering.
It's divided into several thematic galleries, each providing an immersive experience. Highlights include the Revolution Manchester Gallery, where you can see how the city's scientists have contributed to various technological advancements.
Also, the Textiles Gallery offers live demonstrations of historic machinery, reflecting Manchester's status as a former textile powerhouse.
Outside the museum, you'll find the working replica of George Stephenson's locomotive 'Planet', offering short rides on select dates. If you get the munchies or need a break, there's an on-site café serving locally-sourced food, providing a convenient spot to recharge.
Where to Eat 
Atlas Bar 
Address: 376 Deansgate, Manchester M3 4LY, United Kingdom
Contact Details: +441618342124
Website: http://www.atlasbarmanchester.com/
Opening Hours: Daily 10 to 12 AM
Stepping away from the beaten track near Great Northern Square, you'll stumble upon Atlas Bar. But be prepared, this isn't your run-of-the-mill bar.
With a collection spanning over 300 different gins, even the most seasoned gin enthusiasts will find themselves exploring new territories. And if gin isn't quite your drink? Their craft beers will surely delight.
Let the passionate staff guide you, making recommendations and introducing you to potential new favourites. While the interiors ooze sophistication, it's the outdoor terrace that truly stands out.
Equipped with heaters, it offers a cosy setting no matter the season. And for those peckish moments, their locally sourced charcuterie and cheese platters are a must-try, the perfect companion to their exquisite drink selection.
James Martin Manchester 
Address: 2 Watson St, Manchester M3 4LP, United Kingdom
Contact Details: +441618280345
Website: https://www.jamesmartinmanchester.co.uk/
Opening Hours: Monday to Tuesday, closed; Wednesday and Thursday 6 to 10 PM; Friday to Saturday 5 to 10 PM; Sunday 1 to 5 PM
Industrial chic meets gastronomic wonders at James Martin Manchester. It's not just the ambiance that will captivate you, but also the artful dance between traditional British cuisine and modern innovation.
Every dish speaks of passion, of love, and of the local fields and farms from where the ingredients are sourced. And while the seasonal menu is ever-evolving, the promise of a fresh culinary adventure remains constant.
If you're seeking a more immersive experience, the exclusive chef's table allows you to witness culinary magic right before your eyes.
Dietary preferences? They've got you covered with vegetarian and gluten-free delights. And for those looking to up their culinary game, their masterclasses offer a golden opportunity.
Evelyn's Cafe Bar
Address: 44 Tib St, Manchester M4 1LA, United Kingdom
Contact Details: +441618343303
Website: http://www.evelynscafebar.com/
Opening Hours: Daily 9 AM to 9 PM
Nestled in Manchester's artsy Northern Quarter, Evelyn's Café Bar is an oasis for the soul. As you step in, the botanical décor offers a refreshing embrace, effortlessly merging with the globally-inspired menu.
Whether you're diving into a brunch extravaganza or settling down for an intimate dinner, the diverse menu ensures there's something for everyone. From mouthwatering meat dishes to vegetarian wonders, every bite is a melody of flavours.
Tattu Restaurant & Bar 
Address: 3 Hardman Square, Gartside St, Manchester M3 3EB, United Kingdom
Contact: +44 161 819 2060
Website: www.tattu.co.uk
Opening Hours: Monday to Thursday 12 PM to 12 AM; Friday to Saturday 12 PM to 12:30 AM; Sunday 12 PM to 12 AM
Where tradition meets the future, Tattu awaits. The restaurant offers a symphony of Asian flavours brought to life with contemporary techniques.
Be it the artful dim sum or their signature cocktails, there's a story in every dish and drink. And as your senses indulge in the culinary delights, the interior, adorned with tattoo-inspired artworks and cherry blossom trees, adds layers to your dining experience.
Australasia 
Address: 1 The Avenue, Deansgate, Manchester M3 3AP, United Kingdom
Contact Details: +441618310288
Website: http://australasia.uk.com/
Opening Hours: Sunday to Thursday 12 to 10 PM; Friday to Saturday 12 to 11 PM
Dive into the culinary wonders of the Pacific in Australasia. Here, the vibrancy of Australian cuisine melds seamlessly with Pacific Rim flavours, all enhanced by European cooking traditions.
As you descend into the restaurant, the chic white interiors promise an experience that's both intimate and grand.
Whether it's the fresh seafood, expertly crafted sushi, or the tantalising grilled meats, each dish is a celebration. And as the night deepens, their bar, with its vast array of cocktails, promises the perfect end (or start!) to your evening.
The French 
Address: 16 Peter St, Manchester M60 2DS, United Kingdom
Contact Details: +441612354780
Website: https://www.themidlandhotel.co.uk/thefrench
Opening Hours: 24/7
Elegance, sophistication, and culinary brilliance—this is The French in the historic Midland Hotel. Spearheaded by Chef Adam Reid, every dish is a testament to the beauty and richness of British cuisine.
Using local ingredients, the tasting menu is a journey through the seasons, each dish promising new flavours, textures, and memories. It's not just food; it's an experience, further elevated by the restaurant's refined ambiance and impeccable service.
El Gato Negro 
Address: 52 King St, Manchester M2 4LY, United Kingdom
Contact Details: +441616948585
Website: https://www.elgatonegrotapas.com/
Opening Hours: Daily 12 to 10 PM
A three-story Spanish tapas restaurant, El Gato Negro is famed for its authentic flavors and open kitchen.
If the heart yearns for the vibrancy and warmth of Spain, El Gato Negro promises to transport you there. Spread across three levels, this Spanish tapas haven is a melody of authentic flavours.
As you move from one dish to another, the open kitchen adds to the drama, letting you in on the secrets of Spanish cooking. But the real charm? The top floor with its retractable roof.
Dine under the stars, or bask in the sunshine as you sip on exquisite wines and savour each tapa. And for those with a keen interest in diving deeper into the Spanish culinary world, their cooking classes are an unmissable treat.
Where to Shop
Harvey Nichols
An epitome of luxury and style, Harvey Nichols graces the Great Northern area with its presence. This high-end department store is a haven for fashion enthusiasts, offering designer clothing, beauty products, and exclusive accessories that are hard to find elsewhere.
To enhance your shopping experience, they offer personal shopping sessions – perfect for those looking for expert guidance in fashion.
But it's not all about shopping; the store also houses a brasserie and cocktail bar, allowing shoppers to take a break and indulge in some culinary delights, making the whole experience more relaxed and enjoyable.
Afflecks
Just a stone's throw from the Great Northern, Afflecks offers a break from the traditional shopping experience.
This emporium stands out with its focus on independent boutiques and artisans. Dive deep into its corridors, and you might find yourself enchanted by unique clothing pieces, vintage treasures, or handmade jewellery that speaks to your soul.
Noir Cuts & Coffee
Positioned near the Great Northern, Noir Cuts & Coffee offers a dual experience that rejuvenates both the body and the mind. With expertise in hairstyling, they provide a modern approach to grooming, ensuring every client leaves looking and feeling their best.
But what truly sets them apart is the aromatic brews they offer. Between haircuts, customers can sip on artisanal coffees, turning a regular salon visit into a luxurious escapade.
It's an experience that combines pampering with the comforting notes of freshly brewed coffee, a combination hard to resist.
House of Fraser
A beacon of style close to the Great Northern, House of Fraser elevates Manchester's shopping scene. This upscale department store boasts a curated collection of brands, offering everything from contemporary fashion to homewares and beauty products.
The store layout invites you to meander through its sections, discovering new brands and timeless classics alike.
It's not merely about shopping; it's about experiencing the finer things, all under one roof. Whether you're updating your wardrobe or seeking the perfect gift, House of Fraser promises a shopping experience like no other.
White Stuff Manchester
Nestled within the vicinity of the Great Northern, White Stuff Manchester provides a fresh perspective on casual fashion. Known for its relaxed, quality clothing and unique designs, it promises styles that are both comfortable and chic.
Beyond clothing, the store also offers accessories and footwear, ensuring a complete look for every shopper.
The ambience within reflects the brand's ethos – laid-back, welcoming, and with a touch of quirkiness. It's a place where shopping becomes a leisurely activity, with the friendly staff always on hand to guide and assist.