Categories >
Guides and Tips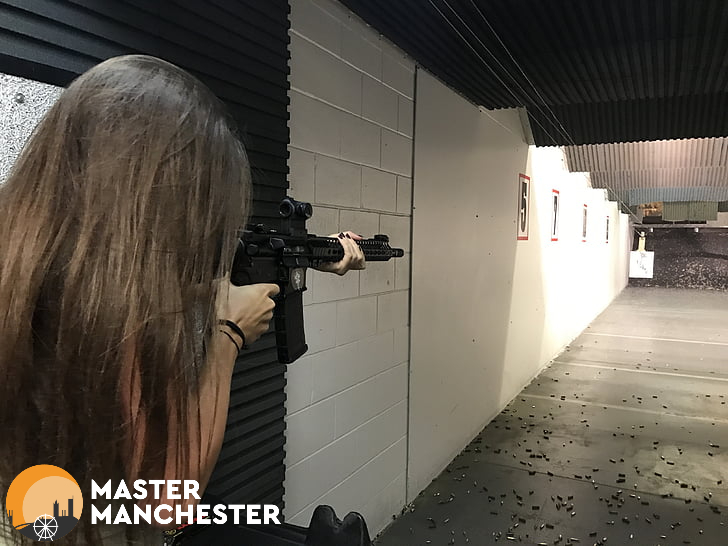 Point Blank Shooting Manchester: An Essential Guide
Sometimes, you just want to free yourself up from all the stress and a great way to do this is shoot a few targets in a range. In Manchester, the Point Blank Shooting range is among the best in the country— a place definitely to go to when relieving all that stress in shooting!
If it's your first time here, then make sure to read on and check out the best things to do and some important notes to remember before you plan your itinerary.
Time Zone
British Summer Time (GMT+1)
Best Time to Go
It would be best to go to Point Blank Shooting in Manchester in the morning on weekdays. This could provide a less crowded experience, allowing for more personalized attention.
On weekends, planning a visit at any time during the day would be suitable, and it might be an enjoyable way to spend a weekend day.
Planning ahead, especially for weekend visits, is a good idea to ensure availability and accommodate any specific needs or preferences you may have.
Things to Know
Currency: Euro
(Check the current exchange rate)
Language: UK English
Calling Code: +44
Address: Basement, 78, Deansgate, Manchester M3 2FW, United Kingdom
Contact Details: +44 333 023 0363
Website: https://www.pointblankshooting.co.uk/manchester/manchester-home
Opening Hours: Monday and Tuesday, closed; Wednesday 4 PM to 12 AM; Thursday to Friday 12 PM to 12 AM; Saturday 11 AM to 12 AM; Sunday 12 to 10 PM
How to Get There
By Train: Manchester Victoria or Manchester Piccadilly are the main train stations in Manchester. The closest to the given address is Manchester Victoria.
From Manchester Victoria, it's about a 15-20 minute walk to Point Blank Shooting on Deansgate. You can also take the Metrolink tram for a short ride towards Deansgate-Castlefield and then walk.
By Bus: Given the centrality of Deansgate in Manchester, numerous buses run along or near it. Here are a few examples, but the best bus to take will depend on your starting point:
Bus Numbers: 2, 3, 4, 25, 26, 32, 36, 37, 50, and more run along or near Deansgate.
You can get off at stops along Deansgate, depending on where your bus route goes. Given the provided address, a stop near Blackfriars Street would be relatively close.
By Taxi: Simply give any taxi driver in Manchester the address: 'Basement, 78, Deansgate, Manchester M3 2FW'. They should know how to get there; if you're using a ride-sharing app, inputting the address should give the driver all the information they need.
Things to Do and Expect 
Beginner's Firearms Training Course
If you're new to shooting, enrolling in a beginner's firearms training course (private golf courses manchester) at Point Blank Shooting could be a great start.
Under the guidance of certified instructors, you'll learn about basic gun safety, proper handling techniques, and the fundamentals of marksmanship.
This immersive experience generally starts with classroom instruction covering essential laws, safety protocols, and theoretical knowledge. Following this, participants typically progress to hands-on training with practice firearms.
The culmination of the course might involve live-fire practice at the range, allowing you to apply what you've learned in a controlled environment. By the end, you'll have gained not only a practical skill but also an understanding and respect for firearm safety and ethics.
Advanced Tactical Shooting Skills Development
For those with some experience in shooting, an advanced tactical shooting course (private golf courses Manchester) might be the next step. These courses often focus on enhancing shooting accuracy, speed, and decision-making under various scenarios.
Participants might engage in dynamic exercises that simulate real-life situations, such as shooting on the move, engaging multiple targets, or even shooting under low-light conditions.
Highly trained instructors often guide participants through these drills, providing real-time feedback and personalized coaching.
This course can be a thrilling experience for enthusiasts looking to take their skills to the next level. It also serves as a valuable training ground for professionals (professional organizer manchester) in law enforcement or private security.
Participate in a Shooting Competition
Engaging in a shooting competition could be an exhilarating experience for shooters of all skill levels. Point Blank Shooting might host regular competitions where participants can test their accuracy, speed, and tactical skills against other enthusiasts.
Such competitions are usually designed with varying difficulty levels and include diverse shooting scenarios.
Participants may find themselves navigating obstacle courses, shooting at moving targets, or even working with teammates in a tactical relay.
Aside from the thrill of competition, these events often foster camaraderie among the shooting community and provide a platform (options trading platform Manchester) for learning from others. Medals, certificates, or other rewards might be up for grabs, adding an extra layer of excitement to the competition.
Simulated Shooting Experience
Technology-driven shooting simulators might be available at Point Blank Shooting, providing a unique and modern approach to firearms training.
These simulators often use laser-guided or virtual reality systems to create realistic shooting scenarios. Whether you're practicing law enforcement scenarios or engaging in a virtual hunting expedition, the simulator offers a wide range of experiences.
The advantage of such simulations is that they allow for practice without live ammunition, providing a safe and eco-friendly alternative. It also enables instant feedback on accuracy, reaction time, and decision-making.
For families or groups with varying comfort levels around firearms, the simulated experience might be a more accessible option.
Corporate Team Building Exercises
Point Blank Shooting may offer specialized team-building exercises tailored to corporate groups. These exercises might involve both shooting activities and problem-solving tasks that require collaboration and strategic thinking. 
Under the watchful eye of experienced facilitators, teams may engage in activities such as timed target shooting, tactical relay races, or even simulated rescue missions. The goal of these exercises is often to foster teamwork, leadership, and communication within the group.
It's a unique way to escape the office environment and challenge employees in a novel setting. By the end of the day, teams often leave with a stronger bond and a shared sense of achievement.
Themed Shooting Events
Themed shooting events offer an opportunity to engage with firearms in a fun and unique setting. Whether it's a Wild West shootout or a futuristic laser battle, Point Blank Shooting might host various themed events throughout the year.
Participants often dress up according to the theme and engage in shooting activities tailored to the chosen concept. These events might feature unique targets, obstacle courses, or even narrative-driven missions that participants must complete.
Such themed events add a layer of entertainment and creativity to the shooting experience, making them suitable for parties, group outings, or simply a fun weekend activity.
Not only do they offer participants a chance to immerse themselves in different eras or imaginative settings but also elevate the standard shooting experience to a more interactive and theatrical level.
The use of props, soundtracks, and specialized lighting can further accentuate the atmosphere, pulling participants into the narrative.
Personalized Shooting Experience with a Professional Coach
For those looking to refine their shooting skills, a personalized coaching session with a professional instructor at Point Blank Shooting could be the perfect choice.
These sessions usually begin with an assessment of your current abilities, followed by the development of a tailored training plan.
Throughout the coaching process, the instructor may employ advanced training techniques, video analysis, and real-time feedback to enhance your skills.
The one-on-one setting allows for deep focus on specific areas of improvement, whether it's your stance, grip, sight alignment, or mental preparation. It's an investment in personal growth and an opportunity to learn from a seasoned professional in the field.
Family-Friendly Introduction to Shooting
Point Blank Shooting may provide family-friendly packages designed to introduce firearms and shooting in a safe, educational environment.
These packages often include basic safety training, hands-on experience with appropriate firearms, and engaging activities suitable for various age groups. Instructors typically emphasize fun, safety, and education, making it an enriching experience for the whole family.
Parents and children can learn together, fostering open dialogue about responsible firearm handling. Such experiences can be an unconventional but rewarding family outing (Moving to Manchester with family), promoting shared learning and bonding over a new skill.
Host a Private Event or Party
For a unique celebration, you might consider hosting a private event or party at Point Blank Shooting. The venue may offer customizable packages that include exclusive access to shooting ranges, personalized coaching, catering, and thematic decorations.
Whether it's a birthday bash, bachelor party, or a milestone celebration, a shooting-themed party adds an element of excitement and novelty.
Experienced staff usually handle the logistics, safety protocols, and entertainment, ensuring a memorable and hassle-free event for you and your guests.
Participate in a Firearms Safety Community Outreach Program
Point Blank Shooting might be involved in community outreach programs that promote firearms safety and responsible ownership.
Participating in such programs often includes attending workshops, seminars, or even volunteering in community events.
These initiatives may focus on educating the general public, schools, or specific community groups about the importance of safe firearm handling, legal responsibilities, and ethical considerations.
By engaging in these community-based programs, participants not only contribute to public safety but also foster a sense of responsibility and awareness within the community.
Where to Eat 
Hawksmoor Manchester
Address: 184, 186 Deansgate, Manchester M3 3WB, United Kingdom
Contact Details: +441618366980
Website: http://thehawksmoor.com/locations/manchester
Opening Hours: Daily 12 to 3 PM
Located on Deansgate, Hawksmoor is renowned for its steaks and delicious British fare. It's a great place to indulge in top-quality meat sourced from ethical British farms, along with fresh seafood and a fine selection of wines.
Tattu Manchester
Address: 3 Hardman Square, Gartside St, Manchester M3 3EB, United Kingdom
Contact: +44 161 819 2060
Website: www.tattu.co.uk
Opening Hours: Monday to Thursday 12 PM to 12 AM; Friday to Saturday 12 PM to 12:30 AM; Sunday 12 PM to 12 AM
Tattu offers contemporary Chinese cuisine in a chic and stylish setting. With its unique blend of traditional flavors and modern twists, the restaurant provides a culinary journey that excites the senses. Don't miss the inventive cocktails crafted by skilled mixologists.
Evelyn's Cafe Bar
Address: 44 Tib St, Manchester M4 1LA, United Kingdom
Contact Details: +441618343303
Website: http://www.evelynscafebar.com/
Opening Hours: Daily 9 AM to 9 PM
For a more casual and cozy dining experience, Evelyn's Cafe Bar on Tib Street offers a diverse menu with vegan and vegetarian-friendly options. The interior is decorated with greenery, giving it a fresh and relaxed ambiance— it's perfect for brunch, lunch, or even a coffee break.
Australasia Manchester
Address: 1 The Avenue, Deansgate, Manchester M3 3AP, United Kingdom
Contact Details: +441618310288
Website: http://australasia.uk.com/
Opening Hours: Sunday to Thursday 12 to 10 PM; Friday to Saturday 12 to 11 PM
Located near Spinningfields, Australasia offers an exciting fusion of Australian, Indonesian, and Southeast Asian cuisine. The sleek and modern decor complements the innovative dishes that combine bold flavors and beautiful presentation.
Rudy's Neapolitan Pizza
Address: 9 Cotton St, Ancoats, Manchester M4 5BF, United Kingdom
Contact Details: +441618208292
Website: https://www.rudyspizza.co.uk/pizzerias/ancoats
Opening Hours: Monday to Saturday 12 to 10 PM; Sunday 12 to 9 PM
If you're craving authentic Italian pizza, Rudy's offers some of the best in Manchester. With an open kitchen and wood-fired ovens, it serves up traditional Neapolitan pizzas using fresh, quality ingredients— it's a vibrant and informal spot to enjoy a tasty meal.